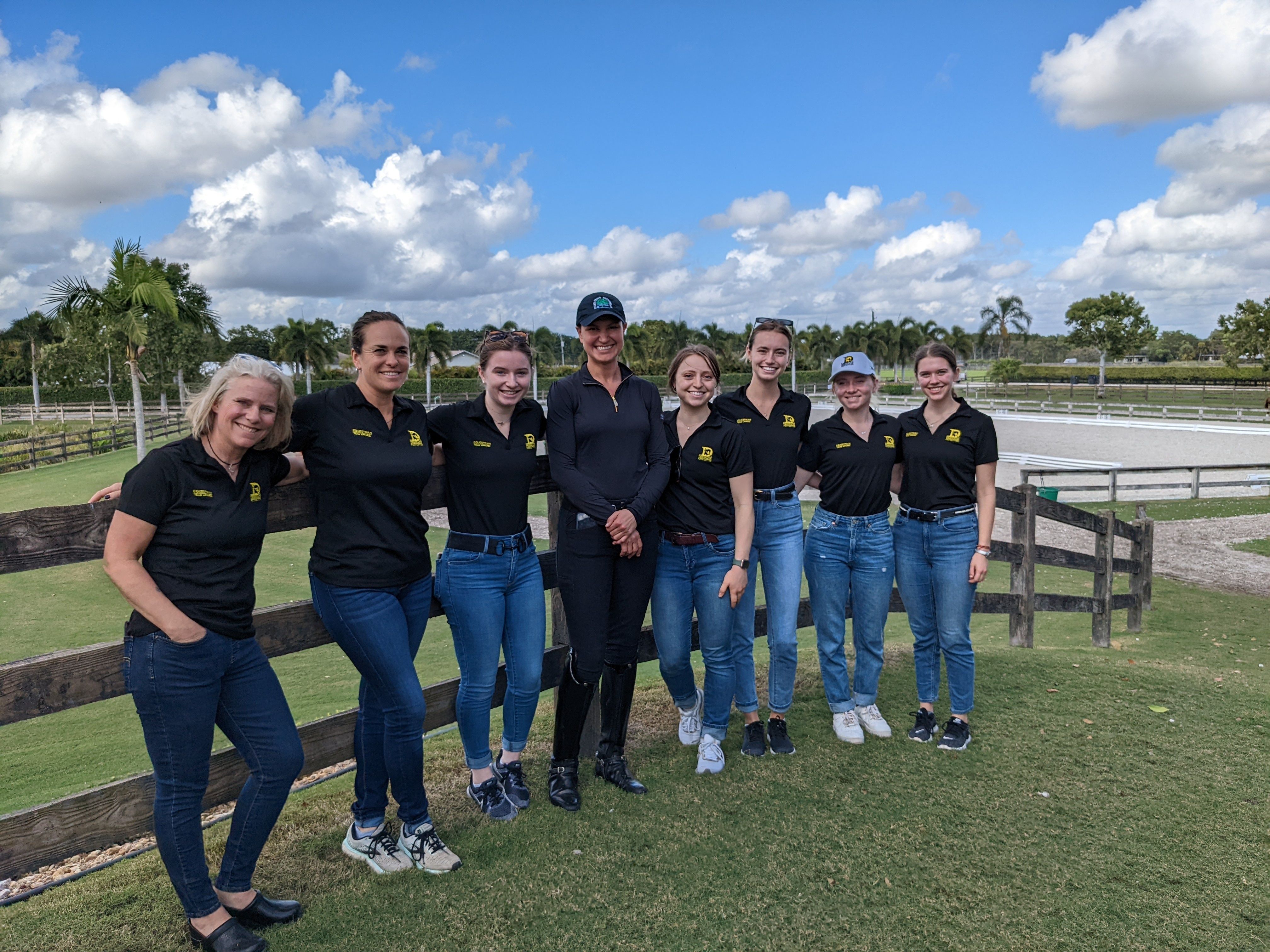 The Dressage Foundation (TDF) is excited to announce that applications for the 2024 Young Rider Dream Program trip are now being accepted. Following the resounding success of the 2022 and 2023 Dream Programs in Wellington, the 2024 program will once again take place in Wellington, Florida.
TDF's Dream Program is a fully funded opportunity for riders who are 18-22 years old, riding Third Level and above, and who have never trained or competed in the Wellington area. The program will take place January 23-28, 2024. Applications are due October 7, 2023, and the application is available online at dressagefoundation.org.
During their week in Wellington, the Dream Program group will be led by a dressage professional as a chaperone and will have the opportunity to meet with some of the top riders, coaches, and judges in the world. The group will also attend competitions at Adequan Global Dressage Festival. While traveling, the young riders will record their observations in daily journals and chronicle the events with photos and video to share.
TDF's Young Rider International Dream Program was originally created in 2000 by Olympian Michael Poulin as a trip to Europe for top U.S. Young Riders. Since then, the program has given 79 young riders the chance to be immersed in the international dressage scene in Europe or Wellington. Most of those riders have become dressage professionals, including 2005 participant and Olympian Adrienne Lyle.
"The Dream Program has given a once-in-a-young-lifetime opportunity to riders who have since risen to the top of the sport," said Jenny Johnson, TDF's Executive Director. "And thanks to the generosity of Margaret Duprey and her Cherry Knoll Farm, we are thrilled to boost the strength of the Dream Program, as Margaret is matching all donations up to the $100,000 mark. Over $50,000 has currently been raised, and we invite you to support the education of the future leaders of U.S. dressage. Your donation will be automatically doubled!"
To make a donation, visit www.dressagefoundation.org/matching-challenge or contact TDF's Executive Director, Jenny Johnson, at (402) 434-8585 or jenny@dressagefoundation.org.
For more information about the Dream Program or how to apply, contact Sara Weiss, Director of Grants and Programs, at (402) 434-8585 or sara@dressagefoundation.org.
The Dressage Foundation
The Dressage Foundation is a 501(c)(3), non-profit, tax-exempt, donor-driven organization that is dedicated to educating, supporting, and advancing the sport of dressage. The organization solicits contributions, appropriately allocates the donations, and awards grants to dressage riders, judges, instructors, breeders, high-performance teams, nonprofit equestrian organizations, and more. For more information, please visit www.dressagefoundation.org.