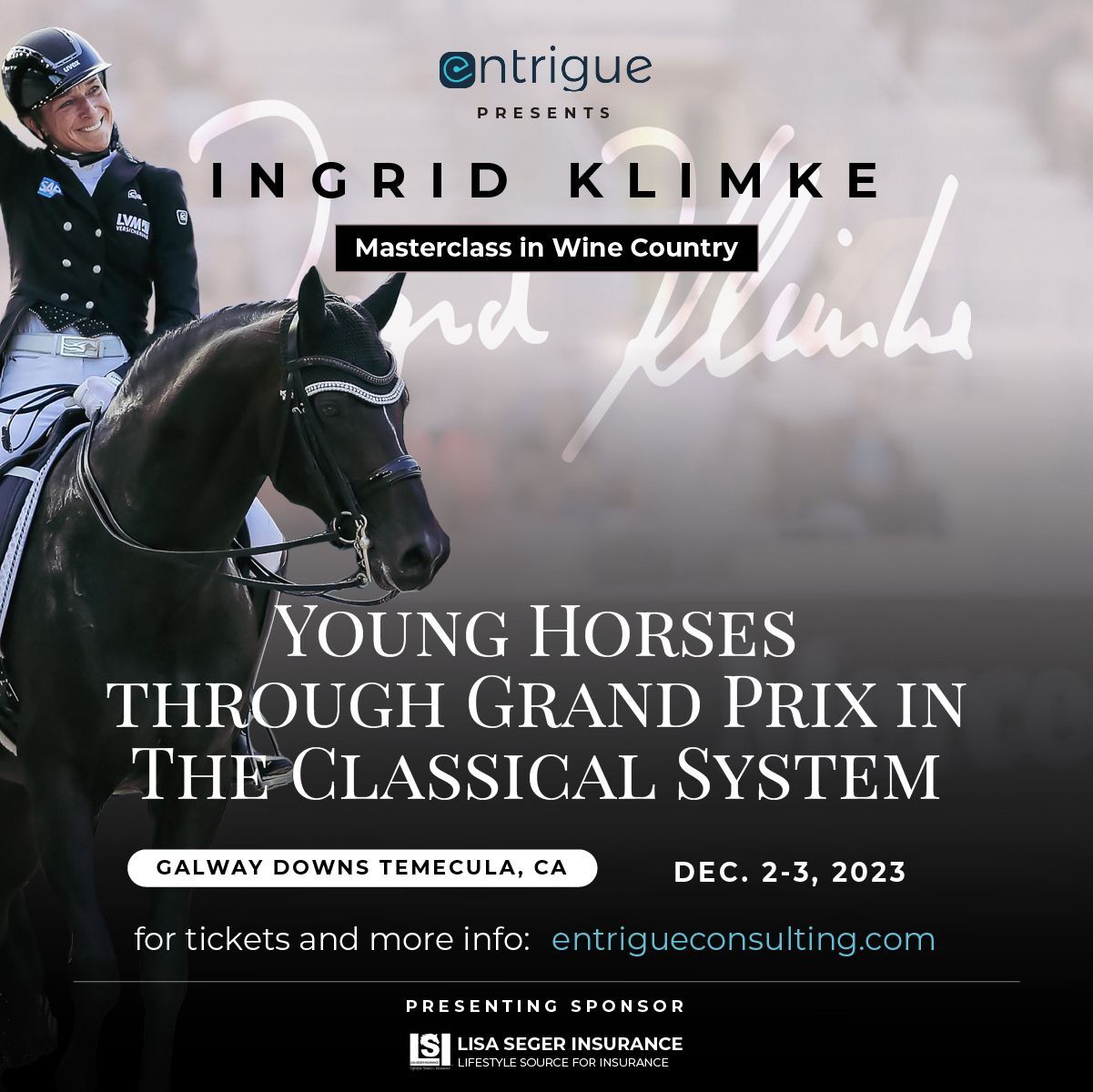 Entrigue is pleased to welcome The Dressage Foundation (TDF) as the official Charity Partner of its upcoming "Ingrid Klimke Masterclass in Wine Country presented by Lisa Seger Insurance," to be held December 2-3, 2023, at Galway Downs in Temecula, CA.

One of the most notable horsewomen of all time, Ingrid Klimke has competed at five Olympics and six World Equestrian Games, winning medals in the Summer Olympics of 2008, 2012, and 2016. During the two-day masterclass, Ingrid will share her training approach through the various levels of development, from young horse to Grand Prix.

"I am very excited to have The Dressage Foundation be a part of this event as our Charity Partner," said Kelly Artz, Founder and CEO of Entrigue Consulting. "TDF is a great organization that really helps dressage riders in the United States — from professionals to amateurs — participate in the sport from the ground up and helps with the financial burdens as equestrian costs rise. I hope everyone will come and learn more about what they are doing for riders and owners at our event in December and potentially get involved!"

Jenny Johnson, TDF's Executive Director, said, "We are thrilled to be named as Charity Partner for this incredible event. Our mission is all about dressage education, and being part of this masterclass is a perfect fit to share more about what we do in the dressage community. We thank Kelly and Entrigue Consulting for the opportunity to be involved!"

Ticket, vendor, and sponsor information for the Ingrid Klimke Masterclass in Wine Country can be found at www.entrigueconsulting.com/events.

About The Dressage Foundation:
Thanks to many generous donors, The Dressage Foundation's grants and programs support the education of dressage enthusiasts across the country – youth, adult amateurs, instructors, judges, breeders, high performance teams and more – reaching all ages and all levels. For more information about The Dressage Foundation, visit www.dressagefoundation.org or contact Executive Director Jenny Johnson at (402) 434-8585 or jenny@dressagefoundation.org.

About Entrigue Consulting:
Entrigue Consulting is a dedicated full-service marketing and brand strategy consultancy with deep expertise in equestrian marketing. Their creative approach to sophisticated campaigns and alignment of marketing assets work to help companies build online brand identity and audience. With a proven track record in brand development, growth strategy marketing, web design, ecommerce, and equestrian representation, Entrigue Consulting has the tools to help companies achieve their marketing goals. Learn more at www.entrigueconsulting.com.