Region 9 Teaching Excellence Award
2013 - Whit Watkins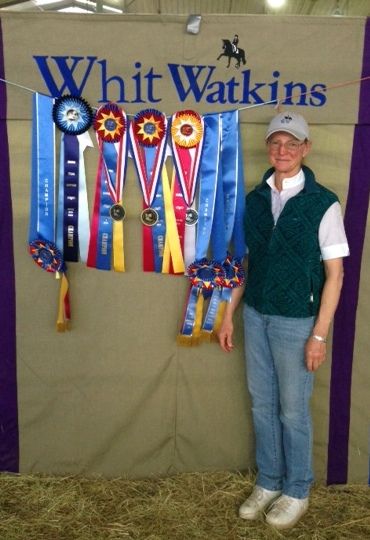 November 18, 2013 - Whit Watkins of Moody, Texas, received the fifth annual "USDF Region 9 Teaching Excellence Award" at the Great American/USDF Region 9 Championships held in Bryan, TX, October 17-20, 2013. She received a $5,000 award for demonstrating adherence to sound dressage principles and the ability to communicate these principles so that students develop themselves and their horses in a logical, progressive and humane way up through the levels.
Watkins, who earned her USDF Gold in 1997 and has trained with Hubertus Schmidt, was pleasantly surprised at the announcement of the award. "When I applied for the Region 9 Teaching Excellence Award I really had no expectation of winning. I am awed and humbled to have been selected."
Watkins has been exceptionally busy since her receipt of the award as she recently competed in the U.S. National Dressage Finals in Lexington, Kentucky, and will travel to Florida to train for the winter season. "The award has allowed me to finalize my plans to travel with my two competition horses to Florida for three months to train with Shelly Francis and compete on the winter circuit there. It is so exciting to have enough funding to be able to compete in a few of the shows at the Global Dressage Festival in the company of many of our nation's top high performance riders! Thanks again to The Dressage Foundation for administering this fund that makes such wonderful opportunities available!"
The Region 9 Teaching Excellence Award was established at The Dressage Foundation in 2009 by Meg Flemming. The purpose of the award is to showcase and honor excellence in dressage teachers. Dressage instructors are nominated by students or peers, and then submit an application that is reviewed by a prominent Selection Committee. In addition to being a USDF Region 9 member in good standing and a Region 9 resident, the recipient must also demonstrate adherence to sound dressage principles and have a reputation for honesty, integrity, and community service.
Pictured above: Whit Watkins at the Region 9 Championships.