Region 9 Teaching Excellence Award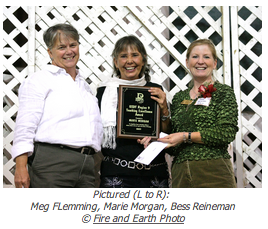 The vast majority of prizes and awards are won at horse shows by top competitors. Occasionally a trainer/instructor can apply for and receive a scholarship or grant for continuing education purposes. It is time to recognize those who teach well.
Recipients of the $5,000 Region 9 Teaching Excellence Award will have many, if not all, of the following attributes:
A USDF Region 9 member in good standing--permanent residence in Region 9. (Required)
A teacher of dressage, whether it is basics--Training through 1st-2nd level, mid-range 2nd-4th levels, or FEI.
Adherence to sound dressage principles, such as outlined by the USDF Training Pyramid.
The ability to communicate these principles of training so that students develop themselves and horses in a logical, progressive and humane way up through the levels.
A reputation for honesty, integrity and community/regional service. 
A USDF Certified Instructor, encouraged, though not required.
Nominations:
A dressage instructor may be nominated by students or peers, by letter emailed or mailed to The Dressage Foundation.  Please include the instructor's contact information and send to:

info@dressagefoundation.org
or
The Dressage Foundation
1314 'O' Street, Suite 305
Lincoln, NE 68508

Nominations must be received by June 1st of each year. Current year nominations will not be accepted after June 1st. Once received, the nominee will be notified by TDF staff, and may submit a completed application by the deadline date of August 1st. The online application form and all required attachments must be received by TDF's office on or before August 1st.  Applications are only accepted from nominated instructors.
Additional Grant Information:
Applications will only be accepted from instructors who are nominated.
A person is not eligible to win the award two consecutive years in a row, and so may not be nominated the year following their receipt of the award.
Funding cannot be used for competition entries, vet and/or farrier expenses, stabling fees, or living expenses.
The committee reserves the right to not award a grant in any given year if they determine that no candidate has met the criteria. Funds would then be held until the following year.  The applications and discussions of the selection committee are confidential and their decisions are final.
If the grant recipient is unable to attend the program specified in their application, The Dressage Foundation must be notified as soon as possible. Approval for a change in the use of funds is at the discretion of The Dressage Foundation and the grant selection committee.
The link to the online application form can be found in the right-hand sidebar (desktop computers) or by scrolling down (mobile).
A video is required with the application. You can find the recommendations for the videos below.
---
The goal for this Fund is to develop initial, one-time financial donations, as well as annual donations from individuals.  On-going annual contributions may continue until the fund is fully endowed (approximately $100,000+). This award will total $5,000/year. The Dressage Foundation is enthusiastically supportive of this award and willing to manage the endowment, and help it grow.

Click here to donate.
---
Recipients of the Region 9 Teaching Excellence Award