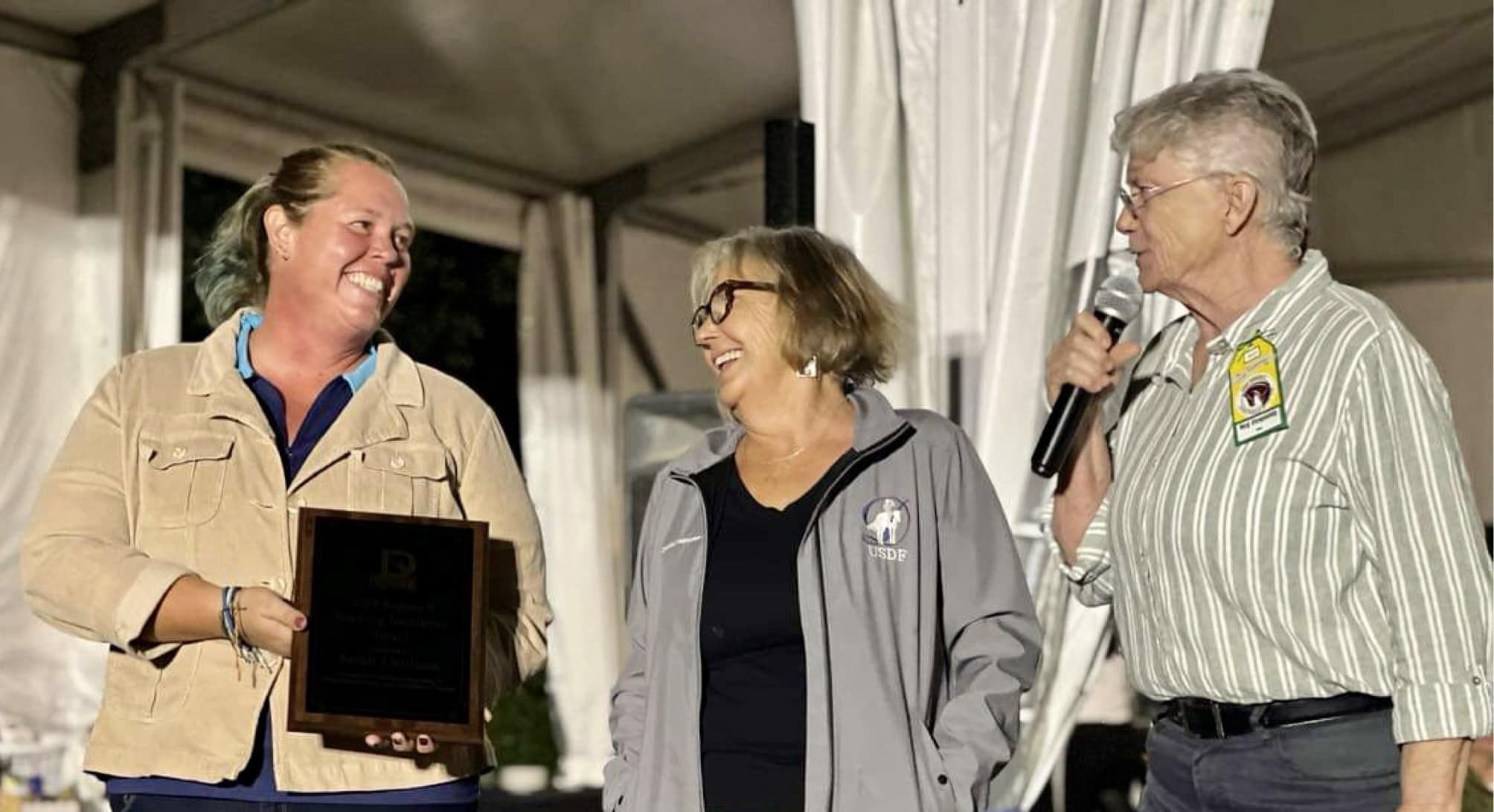 Sarah Denham was recently presented with The Dressage Foundation's 15th annual $5,000 Region 9 Teaching Excellence Award at the 2023 Great American/USDF Region 9 Dressage Championships.
Sarah Denham (Iola, TX) has a Master of Education from Virginia Tech. She has owned Denali Sporthorses since 2014 and has a wide variety of students. Sarah has a long history of volunteerism and was recently appointed to the United States Dressage Federation Adult Education Committee. The selection committee for the Region 9 Teaching Excellence Award commended Sarah for her strong teaching skills.
Sarah said, "I am incredibly honored to receive this award. I have always prioritized developing my ability to teach correctly and clearly. To be recognized for that is really rewarding. I have been so lucky to work with several gifted instructors during my dressage career and those experiences and relationships were transformative. I am committed to continuing to provide quality dressage instruction for years to come as this discipline, and the good it does for horses and riders, is truly my passion."
Students or peers nominate dressage instructors, who then submit an application that is reviewed by a prominent, independent selection committee. In addition to being a USDF Region 9 member in good standing and a Region 9 resident, the recipient must also demonstrate adherence to sound dressage principles and have a reputation for honesty, integrity, and community service.
For more information about TDF's Region 9 Teaching Excellence Award, please visit www.dressagefoundation.org or contact Sara Weiss, Director of Grants and Programs, at 402-434-8585 or sara@dressagefoundation.org.
To support this Award through donations, please contact Jenny Johnson, Executive Director, at 402-434-8585 or at jenny@dressagefoundation.org. Donations can also be made online at www.dressagefoundation.org/support.
The Dressage Foundation
The Dressage Foundation is a 501(c)(3), non-profit, tax-exempt, donor-driven organization that is dedicated to educating, supporting, and advancing the sport of dressage. The organization solicits contributions, appropriately allocates the donations, and awards grants to dressage riders, judges, instructors, breeders, high-performance teams, nonprofit equestrian organizations, and more. For more information, please visit www.dressagefoundation.org.