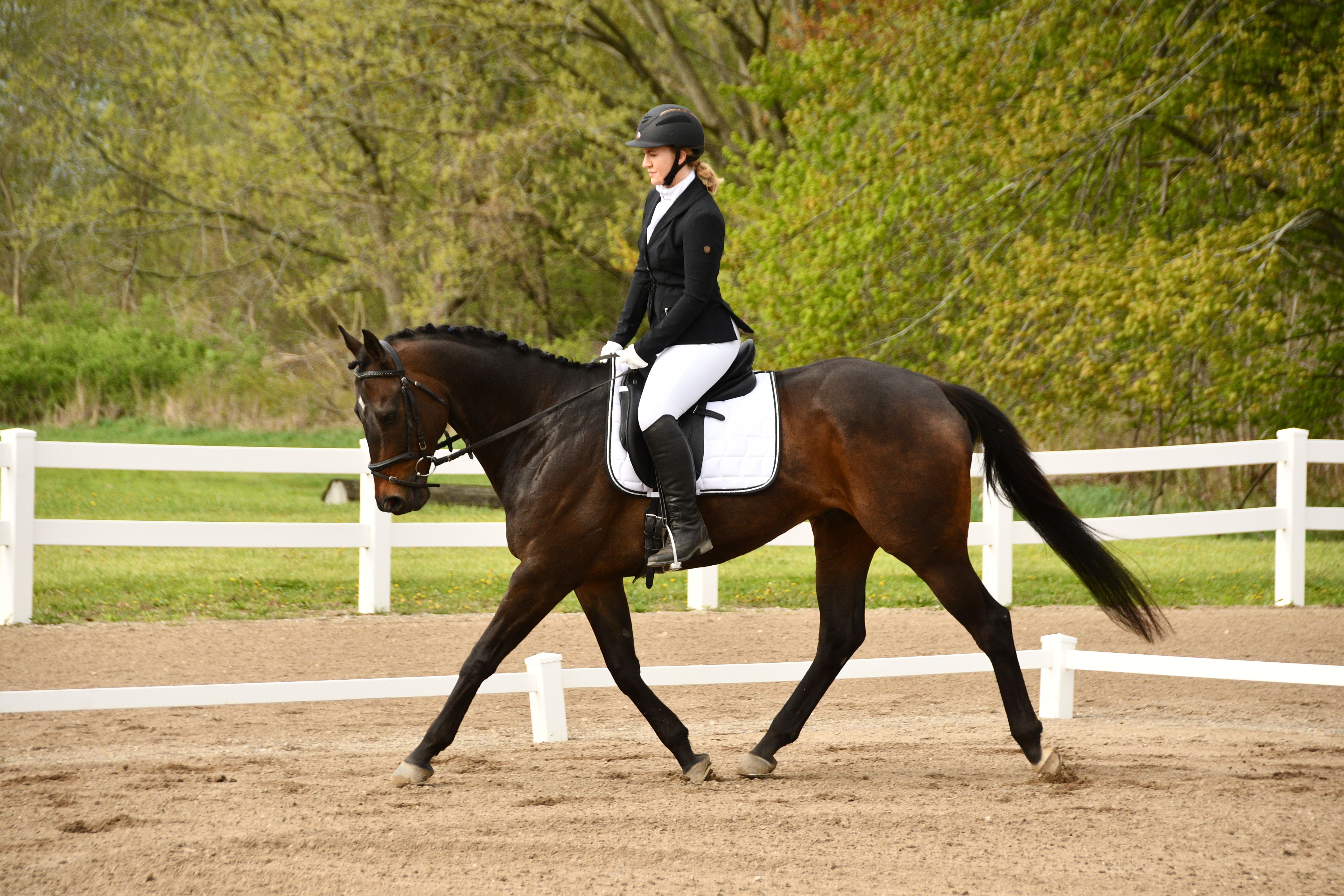 The Dressage Foundation is pleased to announce that the 2020 Carolyn Van Cise Memorial Sportsmanship Fund Grant has been awarded to Nina Neumann of West Bloomfield, Michigan.  
Nina has been riding since she was a young child and is a member of the Midwest Dressage Association.  Nina currently trains with Liz Snoblen at Equinox Farm in Highland, Michigan, and competes at local schooling shows with her rescue horse, Mouse.  Her goal for 2020 is to continue building a relationship with Mouse and move up to First Level.  Nina is also pursuing a B.S. in Biology with a minor in Psychology at Wayne State University.  She works as a student researcher in a cancer research laboratory at Karmanos Cancer Institute in Detroit. 
Nina intends to use the $500 grant to ride in a clinic with John Lassetter later this year. 
She shared, "I am beyond thankful to The Dressage Foundation for awarding me the Carolyn Van Cise Fund grant! It will allow me to participate in a clinic taught by FEI dressage rider, John Lassetter, and offer me insights into my riding that are beyond any level of training I have ever received. I am more than excited about this opportunity since it will allow me to fulfill a long-time training goal of riding in a clinic with my heart horse, Mouse. I adopted Green Mouse 6 years ago, fresh off the race track as a 4-year-old. After giving him the time he needed to be physically and mentally ready, we started competing together last year. This horse has so much potential and determination in him! I am thankful to Carolyn Van Cise's family and friends for their generous donations to support this grant, which will allow me to further my training and let my horse shine!"
Carolyn Van Cise was active in Michigan's dressage community for many years as a trainer, instructor, judge, and mentor. Dressage was her passion and she served as a role model for those she knew. The Carolyn Van Cise Memorial Sportsmanship Grant is awarded annually to a rider under age 25 who is a current Michigan resident and best exemplifies the qualities that Carolyn found most important in life, including the characteristics that demonstrate positive sportsmanship principles.  
Recipients of this grant will receive $500 to be used towards expenses associated with attending a specific educational eventing or dressage event of their choice. 
For more information about the Carolyn Van Cise Memorial Sportsmanship Fund or The Dressage Foundation, please contact Jenny Johnson at (402) 434-8585, by email at jenny@dressagefoundation.org, or click here.
(Photography credit: MV Photography)