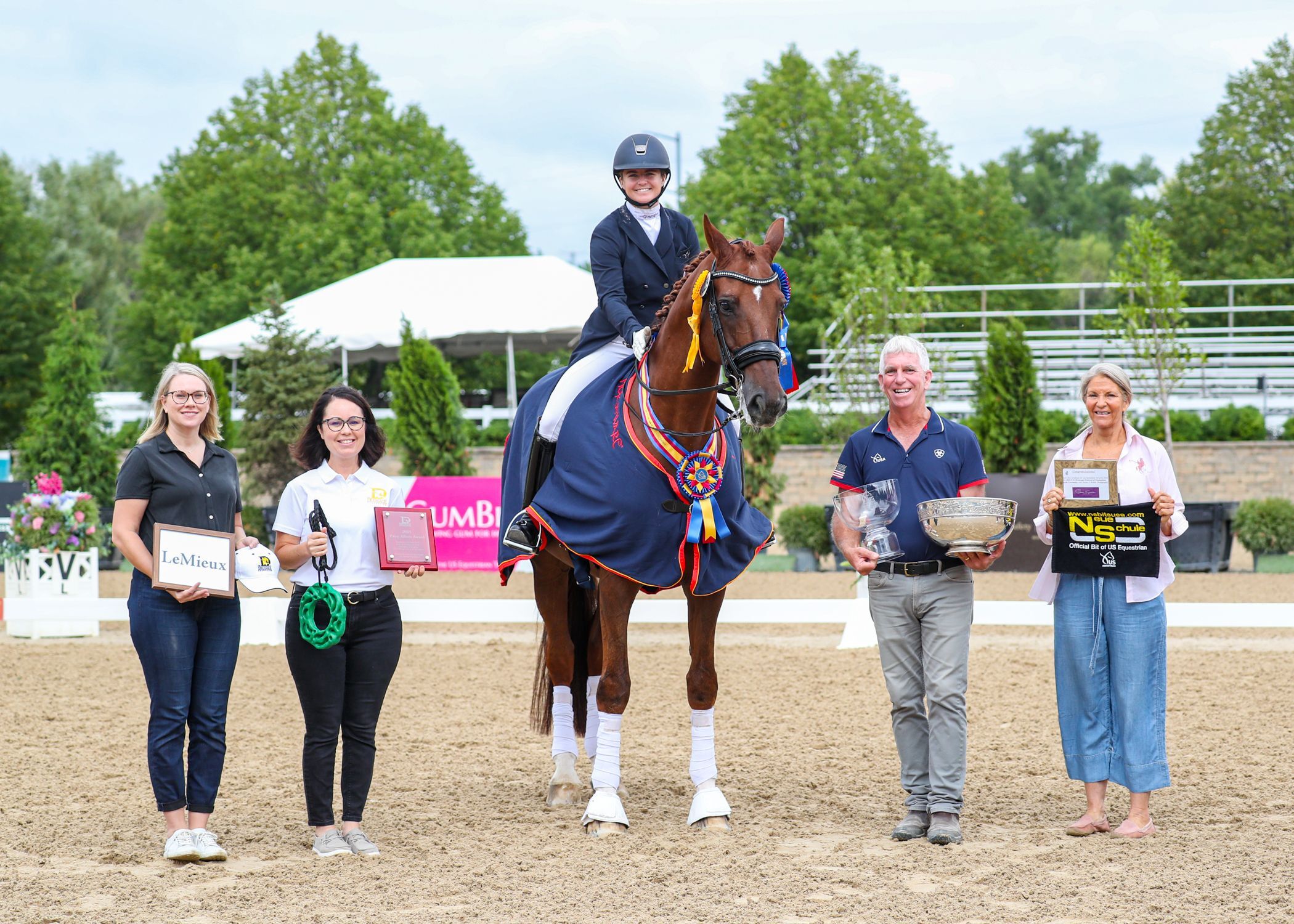 The Dressage Foundation (TDF) has announced that Codi Harrison is the recipient of its 2023 Patsy Albers Award, which was first awarded in 2013 in special remembrance of Patsy. The $2,500 award provides financial support for continuing education and training to an FEI-level rider.
Harrison (Wellington, Florida) and her own 2007 Danish Warmblood gelding, Katholt's Bossco were named Champions in the USEF Grand Prix Dressage National Championship at the 2023 U.S. Dressage Festival of Champions. The Patsy Albers Award is given to the highest placing Grand Prix rider at the Championship who also competed for the U.S. at a previous North American Youth Championship (NAYC).
Harrison said, "I am grateful to be the recipient of TDF's Patsy Albers Award this year. Young Riders is a great program for youth to go through as it creates a sense of teamwork within a sport that is mostly individual. The Patsy Albers Award is a fantastic way to reward those who progressed from NAYC to the senior-level Grand Prix. Thank you to TDF and its donors for providing this award!"
Patsy Albers, one of the nation's best-known figures at dressage shows across the country, passed away in October 2012. She was a longtime supporter and Chef d'Equipe of the North American Youth Championship Region 1 team and was very involved at the prestigious Dressage at Devon, where she served for many years as the FEI Event Director. Patsy's expertise also extended into management, officiating, and volunteering, for which she was honored multiple times.
"For the past decade, it's been an honor for The Dressage Foundation to present the Patsy Albers Award at the Festival of Champions," said Jenny Johnson, TDF's Executive Director. "Now, thanks to generous donors, an annual $2,500 Patsy Albers Award will also be presented at Dressage at Devon, beginning this year. We are grateful for the support and are pleased to add this award in Patsy's memory."
For more information about the Patsy Albers Award or The Dressage Foundation, please contact The Dressage Foundation at (402) 434-8585, by email at info@dressagefoundation.org, or visit www.dressagefoundation.org.
The Dressage Foundation
The Dressage Foundation is a 501(c)(3), non-profit, tax-exempt, donor-driven organization that is dedicated to educating, supporting, and advancing the sport of dressage. The organization solicits contributions, appropriately allocates the donations, and awards grants to dressage riders, judges, instructors, breeders, high-performance teams, nonprofit equestrian organizations, and more. For more information, please visit www.dressagefoundation.org.
Photo by Susan J Stickle