The Dressage Foundation (TDF) is pleased to announce the recipients of the 2023 Verne Batchelder Instructor Fund grants are Mikaila Herold and Emily Morris. The Fund, established by Verne's family and friends in 2020, is dedicated to the memory of Mr. Batchelder's long career as a dressage instructor and sport horse breeder. The Fund provides grants of up to $2,500 to professional instructors from USDF Regions 1, 3, or 8 for continuing education and training.
Mikaila Herold (FL, Region 3) teaches six days a week and has on average 14 students from the age of six through 73. Her clients and her horses are a diverse group and many of her students come to her through different disciplines. Mikaila plans to use her grant funding to work with Sue Williams in monthly clinics.
Mikaila said, "I'm incredibly honored and thankful to be a grant recipient of TDF's Verne Batchelder Instructor Fund. As a passionate student of dressage as an art and discipline, I know the immense value pursuing further knowledge brings not only to my riding and training but also to my teaching. However, as many other full-time trainers and instructors also experience, I have found it difficult to prioritize the time and money needed towards my own regular and consistent continuing education. This grant will be life-changing for me as it will allow for regular clinics with my teacher, Sue Williams, throughout the year, instead of the occasional ride every few months. Thank you again to TDF!"
Emily Morris (PA, Region 1) has been a professional instructor since 2018 and coaches eight to 12 students per week who range from eight years old to 80. She also trains four to five horses per week. Along with being an instructor, Emily is a full-time ER nurse. She plans to use her grant funding to train with Janna Dyer and Nicole Harrington.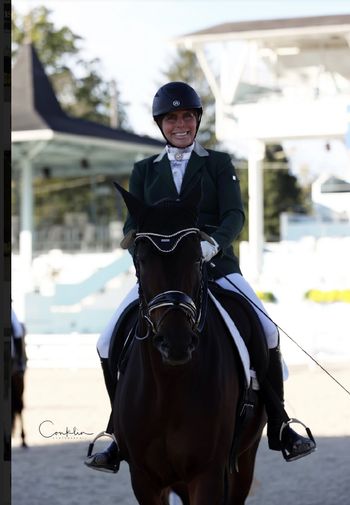 Photo by Conklin Photography
Emily said, "I am incredibly honored to receive TDF's Verne Batchelder Instructor Fund grant. Thanks to the generosity of the Batchelder family and donors, I have an opportunity to train my two horses toward higher levels. I also have the opportunity to train with a Grand Prix mount to work toward my USDF gold medal. This training will help me become a better rider and a better coach to help my clients move up the levels. Without the generosity of everyone who supports TDF, this wouldn't have happened. Thank you."
Applications for the Verne Batchelder Instructor Fund are due September 10th. Visit www.dressagefoundation.org for more information and to find the online application form. Contact Sara Weiss, Director of Grants and Programs at (402) 434-8585 or sara@dressagefoundation.org with any questions
Donations to the Fund are welcome and can be made online or by calling Jenny Johnson, Executive Director, at (402) 434-8585 or jenny@dressagefoundation.org.
The Dressage Foundation
The Dressage Foundation is a 501(c)(3), non-profit, tax-exempt, donor-driven organization that is dedicated to educating, supporting, and advancing the sport of dressage. The organization solicits contributions, appropriately allocates the donations, and awards grants and scholarships to dressage riders, judges, instructors, breeders, high performance teams, and nonprofit equestrian organizations. For more information, please visit www.dressagefoundation.org.