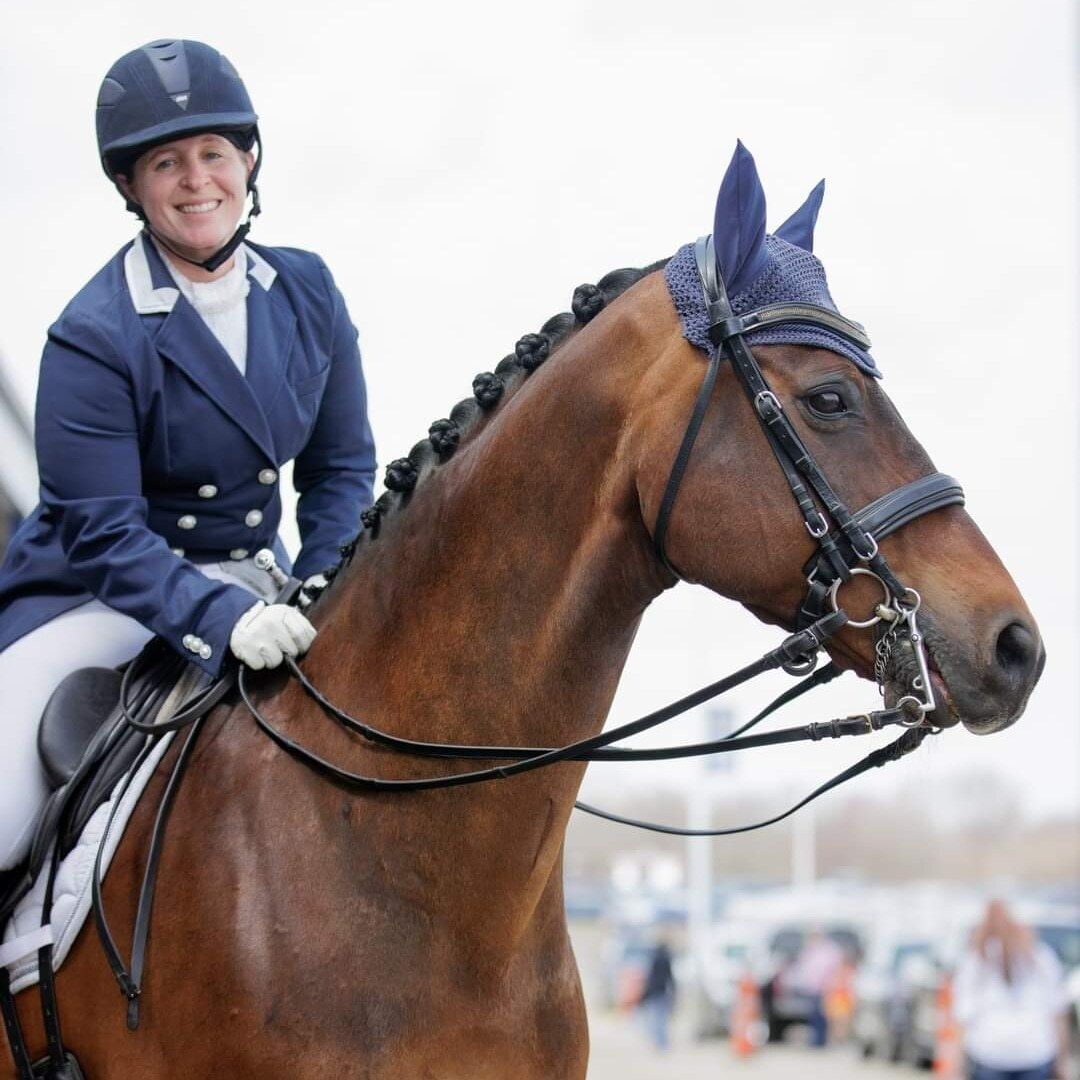 The Dressage Foundation (TDF) is pleased to announce Megan McIsaac (WI), as the recipient of the $5,000 Team Tate Mentorship and Leadership Fund Grant for 2022.  The Fund, established by the Tate family in 2020, provides financial assistance to dressage professionals to further their business, leadership, and riding skills.
Megan is a USDF Certified Instructor through Fourth Level and owns a facility in Wisconsin that offers lessons, training, and summer camps. Megan will use this grant to participate in an entrepreneur workshop and monthly leadership coaching with Bedros Keuilian and for dressage training with her mentor, Kathleen Raine, in California. Megan's goals are to improve her leadership and communication skills, as well as work on Grand Prix movements with Kathleen. 
Megan said, "This grant from the Team Tate Mentorship and Leadership Fund is a gift to professionals like me!  As I am working on balancing my life between personal time versus professional time, my student's goals versus my own career goals, and simply running a business, there never seems to be enough time or money. I feel so fortunate to be able to step away from my business and focus not only on my riding goals and work with my dressage coach, but to be able to work with a business coach to further develop my business and leadership skills. Thank you to TDF for believing in me and supporting my dreams."   
The goal of the Team Tate Mentorship and Leadership Fund is to provide grants of up to $5,000 for dressage professionals, age 25 and over, to receive business, leadership, or personal coaching education, and to work with their dressage mentors to improve equestrian skills.  The online application form can be found at www.dressagefoundation.org under "Grants and Programs" > "Dressage Instructors."  Applications are due on or before July 15th.
For more information about this Fund, contact Sara Weiss, TDF's Director of Grants and Programs, at (402) 434-8585 or sara@dressagefoundation.org.
To donate to this Fund, visit www.dressagefoundation.org or contact Jenny Johnson, TDF's Executive Director, at (402) 434-8585 or jenny@dressagefoundation.org.
The Dressage Foundation
The Dressage Foundation is a 501(c)(3), non-profit, tax-exempt, donor-driven organization that is dedicated to educating, supporting, and advancing the sport of dressage. The organization solicits contributions, appropriately allocates the donations, and awards grants to dressage riders, judges, instructors, breeders, high-performance teams, nonprofit equestrian organizations, and more. For more information, please visit www.dressagefoundation.org.