Annie Houchin - Recipient of a Gifted Fund Grant for Adult Amateurs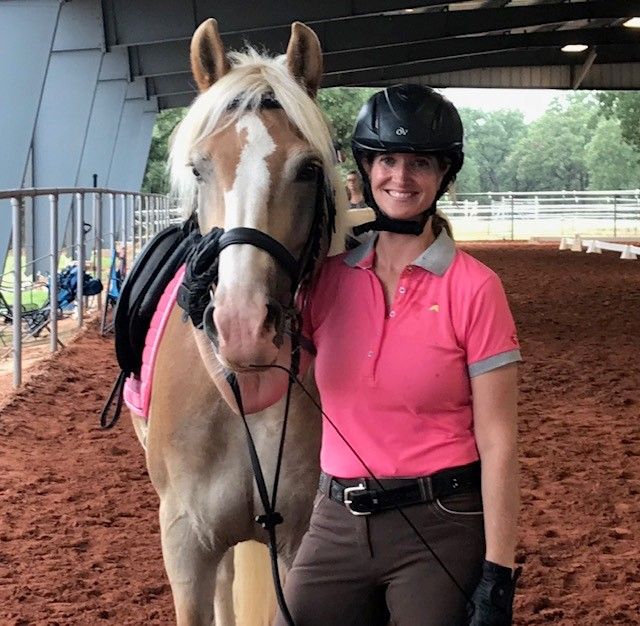 My goal in receiving the Gifted Fund grant was to spend a week learning with my two horses, Noah and Asgaard, and trainer without distractions. I was laid off from my job and also caring for an ailing parent, so finances were tight and time was limited. Taking bi-monthly lessons was good, but I felt like my horses and I needed more attention than I could afford. I knew if I could get consistent lessons, I would feel more comfortable moving toward competing in recognized shows and beginning the goal of attaining my bronze medal.

On Monday, April 22nd I loaded up the trailer and headed to Sherry Guess's home in Porter, Oklahoma. Fortunately, we only had one day to schedule around rainstorms, which is a rarity in northeast Oklahoma. Springtime weather can sometimes be…exciting.

Sherry recognizes the importance of biomechanics and its influence on effective communication between horse and rider. Sherry and I used the Equestrian Journal daily to keep track of what we worked on so I will be able to go over my notes in the future.

DAY 1:
"STAND IN THE BOAT" -- Which basically means balance. We worked on Asgaard's better response to the basics and meeting his contact.  Light aids, listen for response, no response = consequence.

Noah is a Haflinger, which presents its own challenges. He has a difficult time working from his hind and under himself. Canter does not come naturally. 8-10m circles using the inside leg to drive the hind leg under. Come out of the circle, leg-yield and ask for lengthening. Squeeze long and strong. Canter, keeping inside rein to keep from head-toss. "Self-carriage for the rider is hard".

DAY 2 RAIN:
"YOU MUST TRAIN EVERY STRIDE" -- Since it was raining, Sherry came to the arena where I board. It was a good chance for her to see the horses in their daily element. With Noah, we worked on 20-meter circles in small trot, working trot and lengthening. Leg yield loops the width and length of the arena. Then, lengthening in loops. Prepare and pay attention during canter transitions.

DAY 3:
"PREPARE – WHAT COMES BEFORE"-- Worked on not having to push Asgaard to get him to go. Walk needs more power from my body to get power from him. Canter transition, hind needs to be more active. Noah, square corners in trot, now add lengthening.

DAY 4:
"RIDE TO THE BIT" -- Low Gear (use lower abs/core), lats and calves to ride into the bit. Canter, keep the inside rein. Even if really strong, release your outside arm so he has someplace to go. Push him into your hands.

DAY 5:
"DO NOT ACCEPT A WALK YOU DON'T WANT TO SHOW" -- Head-wagging/bobbing at the walk = dragging belly. 10m canter circle. Working trot E to CL, CL to B – Leg yield, B-E Lengthen trot.

Suggested reading: "When 2 Spines Align" by Beth Baumert

On the Sunday after my wonderful week with Sherry, I competed with Noah at the Central Plains Dressage Society Spring Recognized Show at Valley View Equestrian Center in Stillwater, Oklahoma. We rode 1st Level test one and received a 65%, which earned us second place! This is my first score toward my bronze medal and I don't think I would have had the confidence to ride the test if it wasn't for my time with Sherry. I want to thank The Dressage Foundation, its committee and the Equestrian Journal for giving me the opportunity to learn and grow in my dressage journey. I love this sport and I want to be the best I can be for my horses and our community.  I will encourage others to take advantage of this GIFT!