Kathy Hanford: 2018 Gifted Grant Report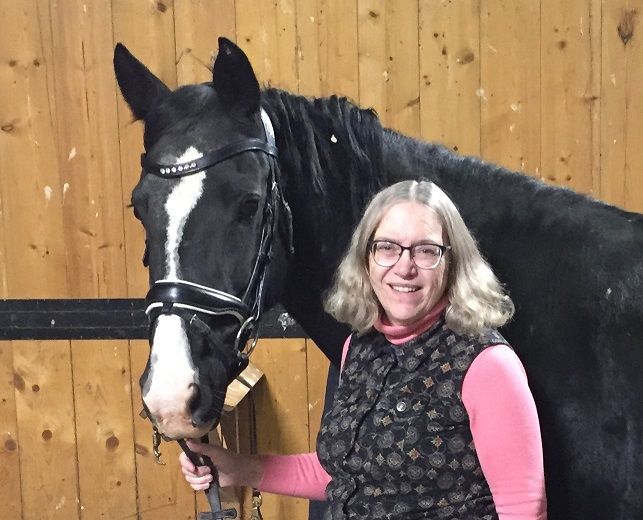 My week at Sarah Martin's in Blanca, Colorado, was a sea-change for Gem's and my relationship.
I was very excited, but nervous, when I was awarded the Carol Lavell Gifted Memorial Fund grant.  I had bought Goldhills Gemini, a 2007 Welsh Cob, two years earlier as a 60th birthday present to myself. Gem was new to dressage and also found new situations scary.  We had been working on building his (and my) confidence, but seemed to have hit a wall.  He found the alpaca, Carl, and the cows at our barn frightening, no matter how many times he saw them.  Gem and I had the opportunity to ride in several Sarah Martin clinics.  The more I rode with Sarah, the more my riding improved and the better Gem's attitude became.  I knew that being able to ride at Sarah's training facilities would take both Gem and me way out of our comfort zone and give us techniques for us to successfully deal with new situations.  I also knew that working with Sarah every day would allow us to develop the balance I needed at the canter and understand the appropriate aids for transitioning between gaits.
My husband, Steve, and I dropped Gem off on a Friday evening at Sarah's on our way to Statistics meetings in Denver.  I wanted both Gem and I to have a week to adjust to the altitude and for Sarah to have a week to work with Gem.  It was great seeing a picture of Gem being ridden that Saturday in the big outdoor arena!
On Thursday, after dropping Steve off at the airport, I headed back down to Blanca to start my week.  I stopped at Sarah's Thursday afternoon and got a chance to see the other riders who were just completing their first of two weeks at Sarah's have their lessons. It was great getting the chance to see what to expect from the week and to meet my riding family, four wonderful women from Oklahoma.  One of them was Nancy Trait-Lira, who had also been awarded the Carol Lavell Gifted Memorial Fund grant. Her horse, Dutch, and Gem became pasture buddies and Nancy and I became great friends.
I voice-recorded my daily lessons on my phone.  In the evening, I would listen to the recording and write down what I learned in the Equestrian Journal that was given to me by The Dressage Foundation as part of the grant.  It was so nice to have these notes to review before the next lesson.  Gem and I were able to make more progress being able to start out where we had left off the previous lesson.
Friday morning, Sarah offered me the opportunity to hack out with her on Gem.  Unfortunately, I did not take her up on it, since I was just too scared to ride Gem outside an arena!  I was having enough trouble thinking about riding in Sarah's big arena for the first time.  What I hadn't realized was how much growth Gem had made the prior week on overcoming his fears and anxiety.  Gem learned this through both extensive ground work and hacking out around the property.  Our first lesson with Sarah started out with learning some ground work to increase our communication.  Gem was already an old pro at this.  I was amazed at how my usually nervous, anxious horse was already so relaxed.  I was very nervous when I first mounted.  However, Gem amazed me by remaining relaxed and attentive.  Although I had a lot of basics to learn that first day -- "Release, Relax, Find the Balance" -- Gem was fantastic the whole time. I loved that we were also encouraged to watch as many lessons as possible hanging out with our horses.  It gave Gem the chance to just stand near me for one or two hours, relax and enjoy being a horse.
Saturday we had a group lesson where we started out with a relaxing groundwork session, followed by a short small group lesson and then sent out in small group hacks.  I was so nervous about going on a hack.  I was not ready!  However, Gem was.  He was like an old trail horse.  I rode him on the buckle and after a few minutes was able to relax and enjoy both the scenery and the company.  We had already accomplished one of my goals!
Sunday was a day of rest for the horses.  Gem and Dutch had a great day relaxing in the pasture.
Monday and Tuesday I learned some additional groundwork games to use to build Gem's and my communication. We had private lessons both days.  On Tuesday, Sarah put a heart-rate monitor on Gem, so we could see how his heart rate changed during different activities. I worked mostly on balance, separation of aids and keeping my horse straight.  One comment Sarah made, I really liked.  She said that you want a relaxed sleepy state in a horse, because it is easy to activate, while it is hard to steady down a hyper-vigilant horse. I find that I think about this still when I am riding Gem.
Wednesday was a group lesson day. I enjoyed the group lessons, since it gave me the chance to watch and learn from other riders.  We worked on the different movements for a Training Level dressage test.  Sarah emphasized how a dressage test is just putting together these movements.  One of the other riders, Kay, is also an "L" graduate.  We each had a chance to ride a test with Kay judging and Sarah coaching us through each movement.  It was a great experience and solidified the concept that a test is just putting together movements and not something to be intimidated by.
Thursday was our last day.  Before our lesson, Nancy and I went out on a hack on a trail that I had not been on before.  Gem took the lead and we both enjoyed the ride. Both Gem and I were very tired by now, so we had a short but fantastic lesson. We had the chance to put together all of the things we learned during the week.  I was so happy with where we ended, I was in tears. Sarah labelled the recording, "Last Day Awesome."
I loaded Gem up early Friday morning for our trip back to Nebraska.  He and I were both sad to go.  We had had such a fantastic experience at Sarah's and made such good friends.
Gem and I have continued to build on what we started at Sarah's.  I continue doing the ground work and went to a Pete Rodda clinic last week to learn more techniques.  I can now ride Gem in the outdoor arena with Carl the alpaca and the cows close by and he doesn't blink an eye.  We've even ridden down the lane with a friend, which is something I have never done before.  This communication has allowed us to keep improving.  I had a lesson with Sarah a month after our week at her place and she was very happy with where we were at. 
Without the Carol Lavell Gifted Memorial Fund grant, Gem and I would not have made this wonderful progress in our dressage journey and relationship.  Thank you!!