Carol Lavell Gifted Recipient: Leana Tank (Region 2)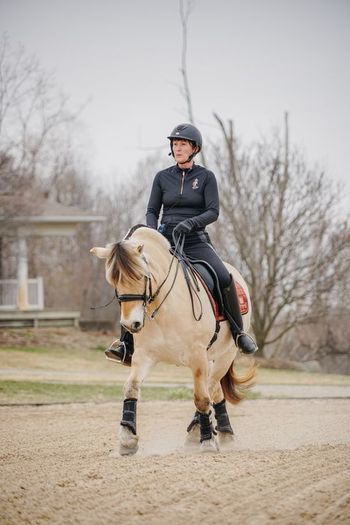 Leana Tank's one-week training with Laurie Moore
As someone who works in a mental health setting, I was greatly in need of some "balance" in my life. My week of training afforded to me by the Gifted Memorial Fund could not have come at a more perfect time. My Norwegian Fjord mare, Sunniva, and I have been together for five years now. I grew up riding and had a wonderful Quarter Horse in high school, dabbling in jumping and dressage.
After years away from riding, beginning a family, and developing a career as an occupational therapist, I finally came to a point in life when owning a horse again was a realistic prospect. At the time, my daughter was eight, and I thought that a Fjord would be a great horse for us to share. Sunniva had a background as a lesson and therapy horse, even driving! I have always enjoyed dressage, but never progressed higher than First Level with my horse in high school and had not seriously trained since then. I am very lucky that one of my old "barn friends" from childhood ended up being a fabulous dressage trainer, Whitney McIntosh.
Whitney is a business partner with another incredible dressage trainer, Laurie Moore. I was so fortunate to have their guidance with Sunniva and we quickly discovered that she was destined to be a dressage horse! Do not be fooled by her teddy bear looks, she is quite athletic, sensitive, supple, and balanced! I wasn't terribly upset when my daughter chose ice skating over riding because it meant more Sunni time for me. We began working on Training Level and have been working our way up the Levels ever since. We are now working on Third Level, with the goal of locking in flying changes before attempting a Third Level test.
As a full-time working professional, wife, and mom, I typically find time for a lesson about once or twice a month. This winter has been especially hectic, and I was so ready to take a break, it felt like taking a deep breath! The Gifted Memorial Fund grant allowed me the chance to not only lesson daily but to take a break from my usual business and just enjoy being with my horse and spending time at the barn. It felt so luxurious to watch a few other lessons, make sure I took time to stretch properly, and spend some quality time spoiling my pony. My kind of vacation!
Flying changes are totally new to both me and Sunni. I still feel like I am all thumbs using a double bridle, so Third Level is a big jump up for me!  In preparation for our weeklong "bootcamp," I had Laurie spend several sessions riding Sunni to "explain" flying changes to her. She caught on quickly, so our hope was that I could have the same success during our training week. Our training focused on the building blocks needed for successful changes, checking on each essential piece.
Here are the building blocks we worked on before even attempting a flying change:
*Ensuring I have control over both shoulders and haunches independently at trot and canter through shoulder and haunches in on a circle and off the rail
*Focusing on my own posture with shoulder blades down and back, holding Sunni's shoulder elevation with my chest elevation
*Practicing keeping my snaffle reins shorter and bringing my hands to the bit
*Better control of the level of collection at the canter with more jump behind!
*Medium to collected canter off my seat
*Canter/walk canters that are responsive, forward, and off the forehand
Once we were ready, Laurie gave me a very clear explanation of how to use my body to ask for the change, which I appreciate, because organizing myself for this maneuver is a little bit mind-bending!
Steps to asking for the change:
 We set up the change by cantering the diagonal, with the change at the end wall, going from right to left
When cantering, the horse's outside legs hold the balance/support, and the inside legs thrust and push. A flying change requires them to swap this balance as they swap legs
As you collect for the change, focus on collecting them on the non-leading seat bone (left) to send the balance to the leading leg (right)…this allows them to be in the correct balance for the new lead before you ask for the change
 Bring the energy up as you collect and allow the change to be a release of that energy
When you cue, release that old outside (left) hip forward to the girth as you cue for the change on the new outside (right) leg and half-halt
The cue is timed on the upswing of the canter
We got a successful, clean change on the first try! I was beyond thrilled and proud of my very clever pony who tries so hard to figure out what I am asking from her. The week was also filled with enlightening work on the half pass, walk pirouettes, and medium trot, but that change was the icing on the cake!
I am truly grateful to The Dressage Foundation for this experience and to Laurie Moore for sharing her time and wisdom all week long. I have also been wonderfully supported by Laurie's co-trainer, Whitney McIntosh, who has mostly coached Sunni and me through all the Levels up until this point. I truly can't believe how far we have come and am excited to get back into the show ring this summer. Sunniva has never looked or felt better and is a testament to the power of correct dressage training to aid any breed in becoming stronger, more balanced, and harmonious.