Gifted Memorial Fund for Adult Amateurs Recipient: Jessie Ginsburg (Region 1)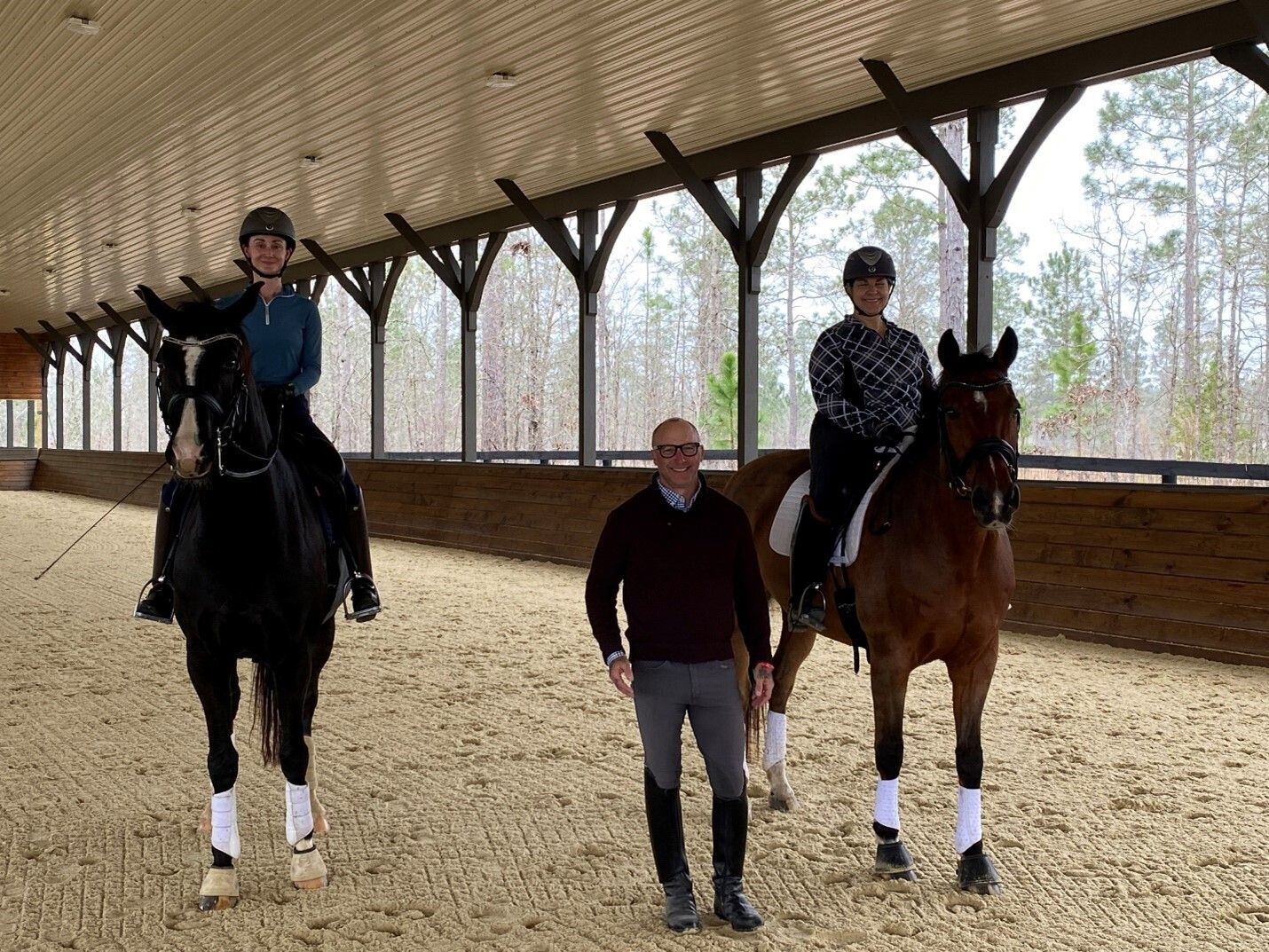 JESSIE GINSBURG GIFTED FUND GRANT WRITE-UP:
A PLAY IN FOUR ACTS
Dressage is a Journey – Complete with Detours
BACKSTORY:  Our protagonist, Jessie Ginsburg, received a generous Gifted Memorial Fund Grant from The Dressage Foundation to train with noted dressage professional Jeremy Steinberg in Aiken, South Carolina.  As noted in their application, the intent of the week is to spend quality bonding time with her beloved KWPN gelding Vodermus, aka Vodie, and work on Grand Prix movements. 
CAST OF CHARACTERS
Jeremy Steinberg: Jeremy is an experienced rider, clinician, and writer whose base of operations is in Aiken, SC.  He began riding dressage as a youth and won the gold medal at the NAYRC in 1996.  He has trained numerous horses to Grand Prix, competed in high-performance classes, and served as the USEF Youth Dressage Coach.  He now conducts clinics all over the world.
Lucy Tidd: Lucy is an extremely accomplished amateur rider who owns Locks Edge Farm, a lovely boarding facility in Poolesville, MD.  She is also a practicing small animal vet.  Lucy owns Ellert, a Grand Prix horse who she bought as a three-year-old; Lola, a massive chestnut mare who has competed through 4th Level; and a couple of younger horses.  Jeremy holds periodic clinics at Locks Edge, and Lucy recently built a farm in Aiken so that she could train with Jeremy over the winter.
Siobhan Byrne:  Siobhan is Jessie's regular trainer.  Siobhan is a USDF gold, silver, and bronze medalist whose base of operations is at Locks Edge.  Her current primary competition horse is Hans, a stunning black KWPN gelding who Siobhan has competed successfully through PSG.  Siobhan does an annual boot camp week of training in the spring; in 2022 she planned to take Hans to train with Jeremy for a week, as they prepare to enter some CDIs this year.
Jessie Ginsburg: Jessie is an amateur rider and "r" dressage judge who works for the federal government in Washington, DC.  She spends all of her disposable income and most of her leisure time on dressage pursuits.  She rode hunters and equitation in her youth, and her dressage journey began in the early 90s when she transitioned to dressage.  She bought her first dressage horse when she was in her 30s and worked her way up the levels on a variety of horses.  She now owns Vodie, a 19-year-old KWPN gelding, who she purchased in 2017 as a small tour schoolmaster.  It turned out that Vodie had an aptitude for higher-level movements, particularly piaffe.  So, with much help from Siobhan, Jeremy, and other clinicians, Jessie was able to compete at Intermediare 2 at the end of 2021.  Upon being awarded a TDF Gifted Memorial Fund Grant, she rearranged her work schedule so she could tag along with Siobhan and Hans on their training trip to Aiken.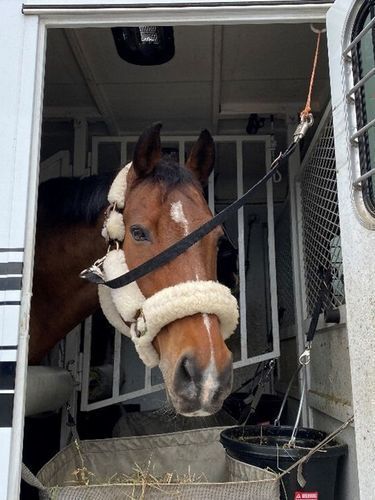 ACT I: The Adventure Begins
Jessie and Siobhan uneventfully load Vodie and Hans and leave Locks Edge just after 7:00 a.m. on a Saturday for the approximately nine-hour drive.  They make it through the entire Washington, DC, metropolitan area without any highway drama.  Once on I-95, the GPS announces, "Turn right in 354 miles."  There was no major traffic, no accidents, and two pit stops; other than some comical billboards, the scenery is rather boring too.  [The audience keeps checking their watches.]
The trailer arrives at Locks Edge South at about 4:30 pm.  Both horses traveled well.  The facility just opened this week (!), so Vodie and Hans are the first residents of their respective stalls, each of which has a bluestone porch right outside the stall that opens to a large individual paddock. They seem to settle in well to their stalls but are quite theatrical in their paddocks so are limited to their porches for the remainder of the Act.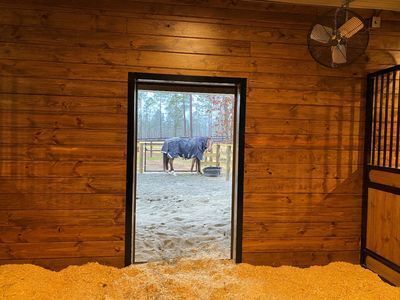 ACT II: The Training Plan Begins
Scene 1: It is cold and rainy in Aiken (ironically, sunny and in the upper 50s in Maryland). Vodie is tense and wild, as he typically is in unfamiliar surroundings, though he usually settles down within a ride.  In Jessie's lesson, Jeremy works to get Vodie to relax by encouraging more longitudinal telescoping of his frame.  Flashback: when Vodie gets tense, Jessie usually rides his frame more long and low; but Jeremy observes that this strategy keeps him too curled and closed in his throatlatch.  As he relaxes, Jeremy advises Jessie to encourage Vodie to take longer steps and reach out to the bit even more with a higher poll.  The relaxation is tested by doing stretchy circles in the trot and bringing his poll up without losing the swing or closing his poll angle.  They then add trot-canter transitions and work on the same adjustability in his topline and stride length.  By the end of the ride, Vodie more willingly accepts a long rein and stays relaxed and rideable.  But there is no time to work on any Grand Prix movements.
Interlude: Lucy's lesson on Ellert.  Because Ellert can take over in the tempis, Jeremy has Lucy ride a few twos or ones, and immediately canter a small circle, then resume the changes.  Ellert makes all the changes look effortless.  Flashback: two years ago, when he was starting Grand Prix, Ellert was much less confirmed in the ones.  The improvement in the quality and confidence in the tempis is dramatic.  Jessie feels there may be hope for Vodie, who is likewise struggling to maintain composure in the one-tempis (along with his rider!).
Scene 2:  Early morning lesson.  Vodie starts off a little tense but somewhat better than yesterday.  Jessie continues making sure he stays up in the poll and actively moves into contact.  He tends to hide from the left bend, so they work on bending honestly to have him fill out the right rein more without dropping his poll.  At the canter, they work on haunches in on a circle so the positioning and circle help keep him from running off while allowing him to soften his topline and bend honestly.  They work on trot-walk and trot-canter transitions to test Vodie's reactions while keeping him actively forward, and small changes in stride length both trot and canter.  At the end of the ride, Jeremy remarks that it is the best trot he has ever seen from Vodie.  Yay!  But he is still not settling quickly enough to work on any Grand Prix movements.
Interlude:  Because Lucy has had to return to Maryland to attend to her vet practice, Jessie gets to hack Lola, while Siobhan takes Lucy's adorable German Shepard puppy, Ella, on a walk.  Lola is amazing on trails – she doesn't spook at anything and just motors along.  In prior rides, Lola singlehandedly got Jessie over her fear of riding large horses; she is so comfy she is like riding a sofa, and so huge that maybe a better analogy would be a sectional.  It is so nice to have a relaxing ride!
Scene 3:  Barn chores.  Flashback: The last time Jessie did daily barn chores was when she worked at a hunter show barn during the summers when she was in high school and college.  At that time, she shared a single-wide trailer parked next to the indoor ring with two other barn help.  This time, she is staying in Lucy's lovely house, steps from the barn.  She muses how nice it is being 30 seconds from the barn, instead of the usual hour-ish commute in Washington, DC, traffic.
Scene 4: The covered arena, starting with Siobhan's lesson on Hans.  Hans appears very settled in his attitude and is getting some lovely cadence in the trot and active piaffe steps.  He is mostly ignoring Vodie's insistent calling.  Jessie warms up Vodie while Hans is completing his ride, and Vodie stays relaxed even after Hans leaves.  Jeremy has Vodie start in the canter, working on keeping him straight, in shoulder-fore, and attentive to small variations in stride.  They then work on flying changes, entering from his uphill, forward canter.  Some of the changes are good, but Vodie tends to be less responsive to the left-to-right change.  When Jessie responds by making her aid stronger, he launches her slightly out of the saddle, causing her right leg to move, which then induces a one-tempi.  [The audience giggles.]  So they work on a zero-tolerance policy for responsiveness to the left change aid.  They then work on piaffe.  Vodie has a lot of talent for piaffe, but can get against the hand and then backs up, etc.  Jeremy diagnoses this as a lack of being honest in front of the leg.  And again, Jessie's position was a large part of the problem – she needed to make sure she stayed at the vertical with a longer rein instead of being pulled forward and out of the saddle and shortening her reins to compensate.  They work on doing just a few piaffe steps and then pushing into a connected walk.  This proved to be more difficult than it sounded.  But after a couple of laps, they were able to successfully execute active, soft transitions from piaffe to walk and back.  [The audience sighs with jealousy.]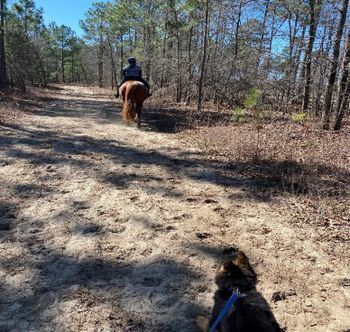 INTERMISSION
Today is Vodie's off day.  Jessie watches Lucy's lesson on Ellert, which was focused on activity in the piaffe.  Ellert is a very powerful horse but wants his energy to cover ground instead of collecting. It was interesting to see how Lucy was increasingly able to channel the energy into loftier but equally powerful steps.  Jessie spends the rest of the day visiting work friends in Columbia, SC.  In the evening, Lucy hosts an informal dinner party with Jeremy and some other horsey friends, resulting in spirited discussions about dressage.  Jessie (who is a USDF PM delegate) ends her evening on the USDF Region 1 Zoom meeting.  [The audience snoozes.]
ACT III: The Detour Continues
Vodie is still not settled into his routine.  He remains quite tense to ride, and the lessons continue to focus on basics.  On Friday, Jeremy remarks that Vodie looks OK in the warmup, but he still feels tight and crooked to Jessie.  So, Jeremy gets on him.  It becomes clear how Jeremy has attempted to address Vodie's tension.  Jeremy keeps driving forward without holding him in the hand.  When Vodie tries to charge forward when the contact is released, Jeremy would do a down transition and ask him again to engage without letting him take over the contact.  He would lightly tickle Vodie with the whip to encourage engagement.  [Side bar to the audience: Jeremy felt that Jessie tends to micromanage Vodie's crookedness before he was engaged enough.  The Training Scale has impulsion before straightness, so this was basically focusing on the wrong issue first.]  Jessie gets back on Vodie at the end of the ride and can better feel what Jeremy has been explaining.  Again, there is no bandwidth remaining to work on Grand Prix movements.
After the ride, Vodie is quite sweaty, so Jessie gives him a bath, which he usually loves at home.  Vodie constantly screams for Hans.  At home, when put back in his stall, Vodie will first gently nuzzle for a treat.  Today, after Jessie removes his halter in his stall, Vodie immediately exits out the back door.  There are tears in her eyes as she sees Vodie running off to see Hans.  It reminds her of a family vacation when the parents want to bond with their children, but the kids instead spend all their free time with their friends.   [The audience sighs pityingly.]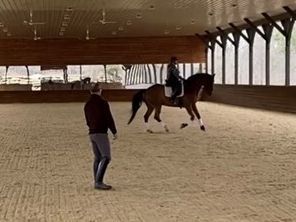 ACT IV: BACK ON TRACK
It is the final lesson of the training trip.  After barn chores, Jessie gets ready for an early lesson.  Hans has the first ride of the day, so he is already out of his stall.  To Jessie's surprise, Vodie is calmly munching hay in his stall, and when he sees her, he comes to the front of the stall to ask for his welcome carrot.  Jessie grooms and tacks up Vodie in his stall, something she always does at home, but it is the first time this week that she has not had to groom him in the wash stall.  They walk up to the ring on a loose rein. 
Hans is still in the ring as they begin a relaxed warmup, and Vodie stays relaxed and obedient even after Hans leaves.  The lesson quickly progresses to work on the quality of the trot and canter; this is the most consistent Vodie has been all week.  In the canter, they work on keeping an active, engaged canter and add some single flying changes.  The changes are nicely through and expressive. 
After a walk break, they work on recreating Vodie's "big" uphill trot, then channeling it into a passage.  Jeremy constantly reminds Jessie to push into the passage instead of holding, keeping the hind legs active and the poll up, and thinking about keeping Vodie round by tickling his hind legs under instead of trying to change the frame with the reins.  Vodie does some expressive, lofty passage steps – the best he has ever done.  After several repetitions, the focus on pushing and staying back, rather than holding with a short rein, becomes better established.
After the ride, Vodie gets a relaxing bath and is served many carrots.  It is a beautiful sunny day, and Jessie smiles as she takes Vodie back to his stall/paddock to rejoin Hans. 
For the rest of the day, Jessie, Lucy, and Siobhan go to a local show facility to watch the cross-country phase of an amazing local eventing benefit that features many international riders.  They then return to the farm to pack for the trip back to Maryland.  [Set fades to black as the trailer pulls out of the driveway at 7:00 a.m. the next morning.]  Nine hours later, they arrive safely at the barn. 
[The audience applauds politely as the curtain falls.]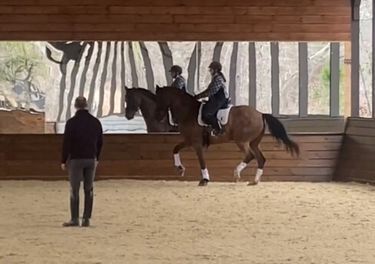 EPILOGUE – THE JOURNEY CONTINUES
Was this the training week Jessie had planned?  Did she defraud The Dressage Foundation by failing at bonding and only working on Grand Prix movements for two of the six lessons?
This week was a reminder that like many journeys, in dressage you don't always reach your destination in the way or with the timing you expect.  But it's important to listen to your horse and respect what he is ready for during different legs of the trip, and make sure you keep your eye on the ultimate destination through the unscheduled detours and derailments.  Despite the unanticipated challenges of my training week, I am thankful that I had the opportunity to help my horse work through his reactions to an unfamiliar environment with the benefit of amazing professional assistance.  I am grateful to The Dressage Foundation for supporting this leg of my journey and am hopeful that our next act (sequel?) will include more progress toward my dressage goals.