Gifted Memorial Fund for Adult Amateurs Recipient: Kirsten Romig (Region 5)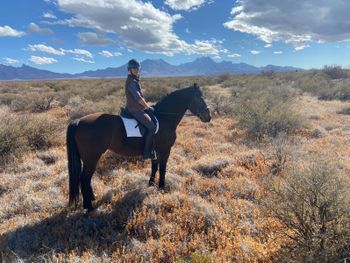 My goals for the Gifted Fund grant were to build a better connection with my horse, become more refined with my riding aids (better "feel"), and move beyond my current showing level (Level 1) where I have been stuck for many years – due to many unplanned events (yes, the pandemic was part of it).
I chose to work with trainer Dr. Bessie Babits at her training facility (Willow Creek Stud) in northern New Mexico.  On Sunday, February 19, 2023, I traveled for five hours with my two horses, Fiona and Buttercup, to Bessie's training facility. Both the horses and I were warmly welcomed to lodge at her place until Saturday, February 25, 2023. 
Throughout the week Bessie gave one to two riding lessons a day. Lessons included incorporating long reins for Buttercup and one of her stallions in training, work-in-hand, verbal explanations while training her stallions, and a hoof care day while it snowed outside.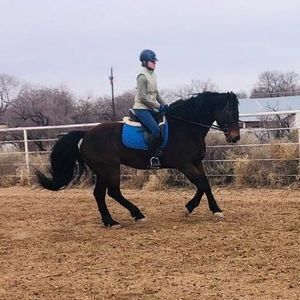 I learned many useful aids and techniques to be an efficient and present rider for my horses. With a few stirrup-less lessons my noisy riding aids became quieter.  The wonderful patterns Bessie came up with for suppleness and refining my seat-to-hand aids were just what we needed.  Both the horses and I have become rather bored with the 20m circle and my habitual nagging.  
In no time at all, Bessie had the horses quickly respond to my seat, clarifying my aids and their responses. I was softer with my hands and managed to still my errant left leg – which always wanted to insert itself where it wasn't needed. Buttercup was a revelation.  He is a lazy horse (I am often irritated by how long it takes him to be forward) that transformed into a light and responsive one.  He was quick to respond to only the seat for a medium trot multiple times.  That has never happened in our time together. Fiona's gait became better with walk-to-trot, trot-to-canter, and trot-to-halt transitions while incorporating travers, renvers, voltes, and side passes through the transitions – so much fun! 
I have never had the opportunity to ride daily with a trainer for a week and the clarity I have found in riding my horses has me excited for the year and shows I hope to attend.  It has been an honor working with Dr. Bessie Babits – a true scholar of the horse.  I am extremely grateful to have been chosen as a recipient of The Dressage Foundation and Gifted Fund Adult Amateur grant.  Such an amazing gift.  Thank you.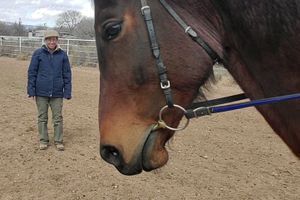 Training events for the TDF week:
Day 1: Bessie watched Kirsten ride Fiona having her do quick transitions renvers, voltes, travers voltes, and shoulder-in with walk-to-trot transitions.  Bessie tutored Kirsten through the long reins on Buttercup and work-in-hand.  These concepts became clearer when Bessie had Kirsten long-rein Cohete (a stallion she is training) and the aids necessary for getting the horse balanced and on his hind end for a piaffe.
Kirsten watched several lessons of Bessie training her clients' young horses.
Day 2: Kirsten watched Bessie train clients' horses and her advanced stallions. Kirsten rode Fiona while Bessie refined the riding aids from the previous day.  They discussed a Nuno Oliveira riding video using transitions with the walk (much like the exercises Bessie had Kirsten do) to build self-carriage and collection.
Day 3: For this snow day, Bessie showed Kirsten a proper assessment of a hoof (on Buttercup) and helped Kirsten with her trimming techniques.  This has built Kirsten's confidence in taking care of her horses' feet after years of farrier woes. Bessie further outlined the biomechanics of the horse.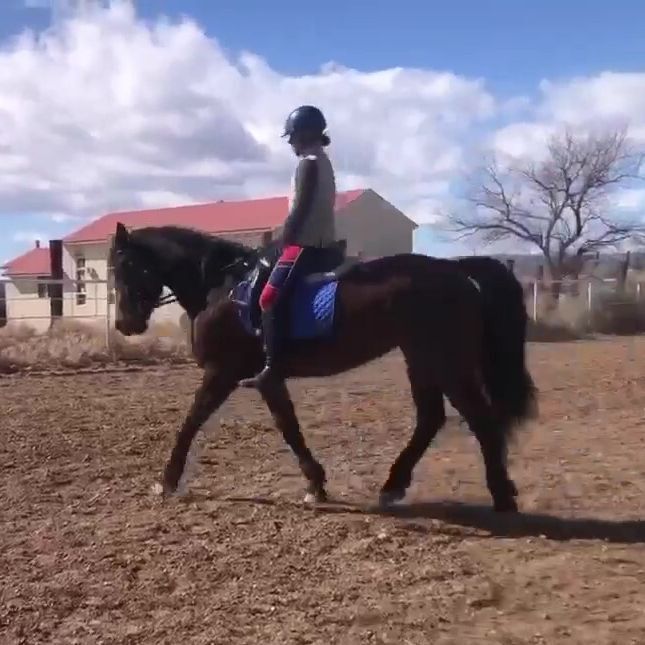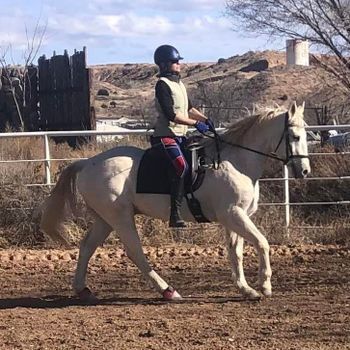 Day 4: Kirsten rode Buttercup while Bessie helped her work through her frustrations with Buttercup's resistance.  She built a game plan for training -- using softness and changing the direction of a lesson when communication isn't working.  This change could be to a forward movement or a halt and think through what is happening. 
Day 5: Bessie had Kirsten ride Buttercup and Fiona without stirrups.  This strengthened Kirsten's core and solidified her seat.  Kirsten's aids became more refined and both horses had a softness and elasticity not seen in the previous days.  Kirsten will incorporate stirrup-less days in her home training program.
Day 6: Bessie gave Kirsten a morning lesson on Fiona before she headed back home. It was cold and Fiona was fussier than the previous days, which meant the lesson was with stirrups (rather than without).  Kirsten's legs were still and less prone to move out of place.