Gifted Memorial Fund for Adult Amateurs Recipient: Lea Leathers (Region 6)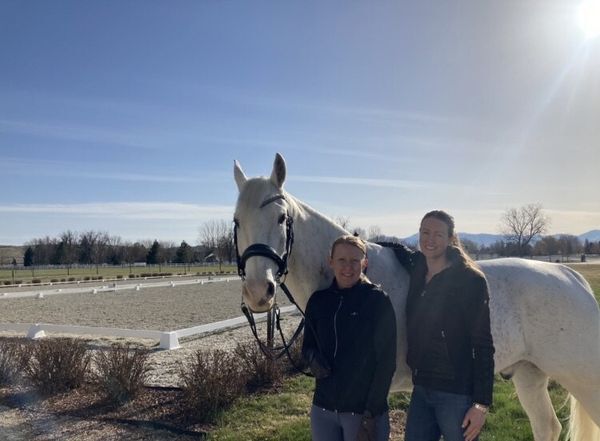 Wow! Where do I even begin? First, I would like to express my sincerest gratitude towards all who make these grant opportunities happen; from TDF Board members and staff; to donors and regional representatives! You truly make dreams come true! Thank You also to my trainer, Nadine Schwartsman, for having us for an entire week and providing us with amazing opportunities!
Huckster and I began our journey approximately 10 years ago. He was a six-year-old when I purchased this high-spirited Arabian-Dutch Harness Cross (registered Half Arabian). He came off the trailer wide-eyed and snorting and I would be lying if I said there weren't many days of tears and frustration to come. While Huckster was trained as a saddle seat horse, it did not take us long to try our hoof and hand at dressage and so the quest for the perfect 20-meter circle ensued (and boy is that a frustration in itself). I did not have any formal training myself and living in eastern Idaho there aren't many local opportunities for dressage training. While we took lessons whenever a clinic would come through, we figured out a lot on our own.
Fast forward to 2020 when Huckster and I debuted at Third Level, we had a very spontaneous lesson with Nadine Schwartsman who was at the same show. Huckster and I have been training with Nadine ever since. The only problem with that is that Nadine's barn is a 4 ½ hour trailer ride away from us. While we try to go as often as we can for a few days here or there and supplement with online lessons in between, I felt we would really benefit from an entire week of concentrated training at Les Bois Dressage, Nadine's beautiful facility in Eagle, Idaho.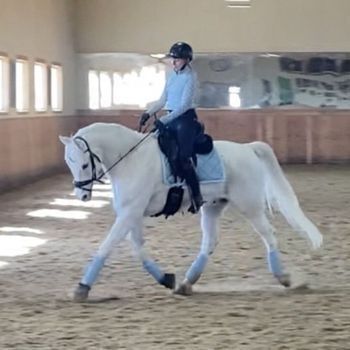 After a long winter, Huckster and I were finally able to spend six days at Nadine's the week of April 10. Huckster and I made our FEI debut at Prix St. Georges last year and earned our USDF silver medal. Our primary goal for the week-long training plan was to continue to work to develop at the FEI levels and possibly develop a freestyle at Fourth Level.
Our first two lessons focused on exercises for Huckster to build more strength as we progress up the levels and to keep him a happy athlete while doing so. We worked on suppleness in the lateral work, creating more engagement from the hind end, and worked on our piaffe and passage work. Pirouettes are currently our weakest link, and it was wonderful being able to spend a week addressing them in a number of our lessons. By the end of the week, we had made noticeable improvements and were able to take this information home with us to continue practicing.
In our third lesson, we began working on our freestyle choreography. Nadine was so gracious to share one of her freestyles that I have watched her ride several times. We adjusted the choreography for a Fourth Level freestyle to better fit Huckster's movement. Working on the freestyle really went hand in hand with our exercises geared toward continuing our FEI journey. By the end of the week, I was able to ride through the entire freestyle with minimal hiccups. It was very different beginning to learn how to ride through a freestyle with keeping up with the music and really focusing on timing. I believe this newly learned skill will actually help us in a lot of other areas with the timing of aids and our structure of riding.
All of our lessons included very helpful warm-up exercises. Huckster tends to be a bit behind the leg and we addressed that immediately in the walk and trot warm-up sessions. This, of course, helped immensely by the time we were ready to go to work. Other warm-up exercises included various lateral movements geared towards the work for that day to supple him right from the beginning.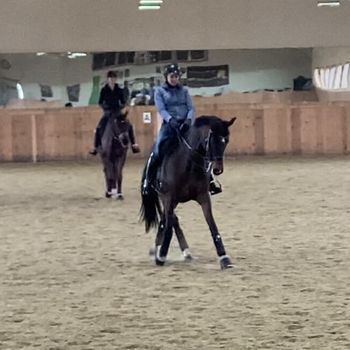 As a bonus, I was able to ride the Grand Prix mare, Greta, in Nadine's training program. This made such a difference in helping me get a feel for the upper-level movements. This is an opportunity I will not easily forget. Being able to ride a professionally trained Grand Prix horse was a true game-changer! We worked on canter pirouettes, trot and canter half passes, trot work, and bringing her back into a passage. I was also able to ride another horse in lessons that helped me concentrate on my own position and aids.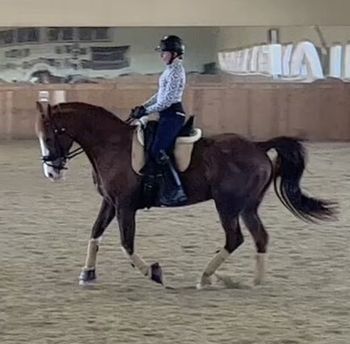 Most of the remainder of the time was spent watching Nadine ride horses in the morning. I was able to ask lots of questions and received a lot of information by doing so. Some of the things we discussed during Nadine's training rides were then incorporated into lessons to follow. Having the visual aids and information from Nadine's training rides really helped me translate some of the things into my own training with Huckster. I also watched afternoon lessons taught by Nadine where I was able to pick up so much additional information; some that I will be able to apply to my own training rides.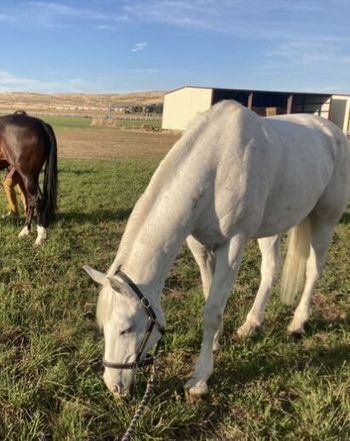 What I really enjoyed was the fact that I was able to spend extra time with Huckster outside of the lessons. Usually, my trips to Les Bois Dressage take place when I have work in the area, leaving little to no time to spend with Huckster outside of lessons while we are there. On this trip, we were able to spend time hand-grazing and going for walks around the property. I was really able to enjoy my time there with him.
Overall, the full week of concentrated training and information was an absolute success! It was everything I had hoped it would be and more. We took so much new information with us and Nadine provided us with detailed homework that I can apply to my solo rides.
Again, a huge thank you to all that make grants such as this one happen!