2021 Lynn Palm Western Dressage Fund Grant Recipient: Jerri Chuey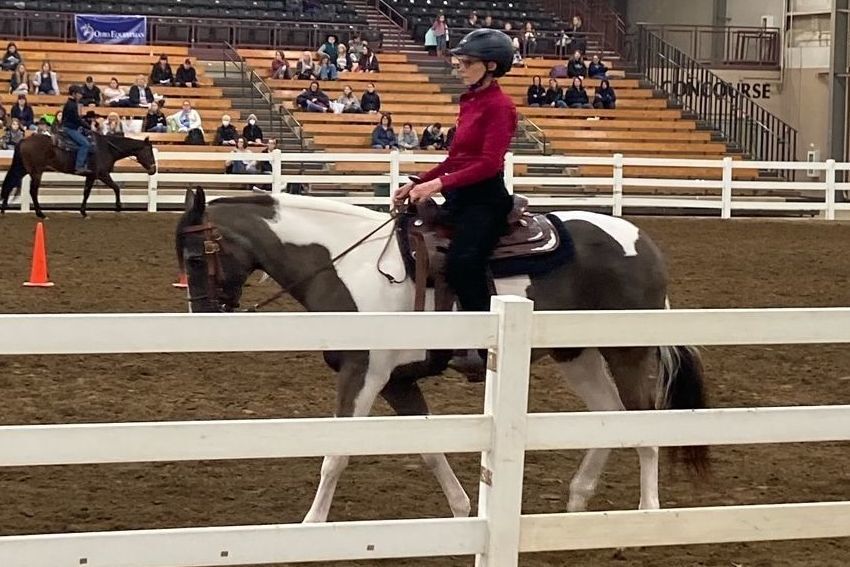 I have been riding Western Dressage for about ten years and it is perfect for me and my horse! When Western Dressage started to evolve, I was evolving with it, and I have not looked back! Achieving my goals has been difficult with weather (winter in Ohio!) and some lameness issues. I am hoping to show Level Three this year and show in more Western Dressage Association of America shows. My plan was for more lessons with my trainer, Jennifer Sharpnack, as I worked on correct fundamentals and becoming a better rider.
Lessons with funds from the Lynn Palm Western Dressage Fund for Individuals:
11/15/21: Lesson with Jennifer Sharpnack
This lesson include canter from a rein back, canter from 360-degree haunches turn and half passes from a trot and a canter. Mystie was not really in the mood tonight.
12/13/21: Lesson with Jennifer Sharpnack
We worked on the three-loop serpentine and canter half passes for our canter work. Our trot work included shoulder to a renverse at B and E. Mystie was amazing today.
12/20/21: Lesson with Jennifer Sharpnack
Practiced both of the Third Level tests I plan on showing in March. Lead changes went well but we need to practice our circles from the wall.
1/09/22: Lesson with Jennifer Sharpnack at Brecksville Stables
We practiced the Third Level test, and it went well. I am so pleased with Mystie. Next time we want to run through both tests.
3/15/22: Lesson with Jennifer Sharpnack
Worked on circles and lateral without losing impulsion. Good lesson coming off such a long break.
3/26/22: CADS clinic with Sara Justice
We worked on the Third Level Test 2 a bunch and added in some of the rest of the level maneuvers. Sara had some good suggestions to help me understand how to execute a test at this level. An informative day and lots of fun.
March 2022: Equine Affaire, Columbus, Ohio: Clinic with Lynn Palm
I so adore Lynn and her way with people and horses. My horse and I were quite nervous, so she helped us work through the nervousness. I am a timid rider and my horse got anxious, so it did not go as planned for our Friday lesson. By Saturday, we were a bit more relaxed and that allowed Lynn to help us with some of the things we need to perfect for a better dressage test. My lead changes and straight lines are the two things she caught on my video that she thought we could improve on. Lynn adjusted our bit and curb strap which was a big help to my horse trying to escape the pressure. Also, Lynn taught us straightness and hand position and that allowed my horse to move more freely.
I liked her clinic so much that after the event I got wind she is coming back to Ohio so what did I do? Yes, you guessed it I signed up for that clinic coming in July of 2022. I am not sure how to finance all this, but I guess if there is a will then there is a way!!
5/7-5/8 2022: Joann Williams and Western Dressage Clinic at Brecksville Stables (CADS)
Joann was helpful to us as she taught us an exercise to half pass off the rail just two to three steps and leg yield back. This exercise is supposed to help develop the muscle and balance to perform better lateral movements. Joann also gave me spiral exercise to work on so my horse will learn to stand up in her circles.
This has been a great experience so far and again I would like to thank The Dressage Foundation for this (maybe) once in a lifetime chance.