2020 Para-Dressage Fund Grant Recipient: Charlotte Merle-Smith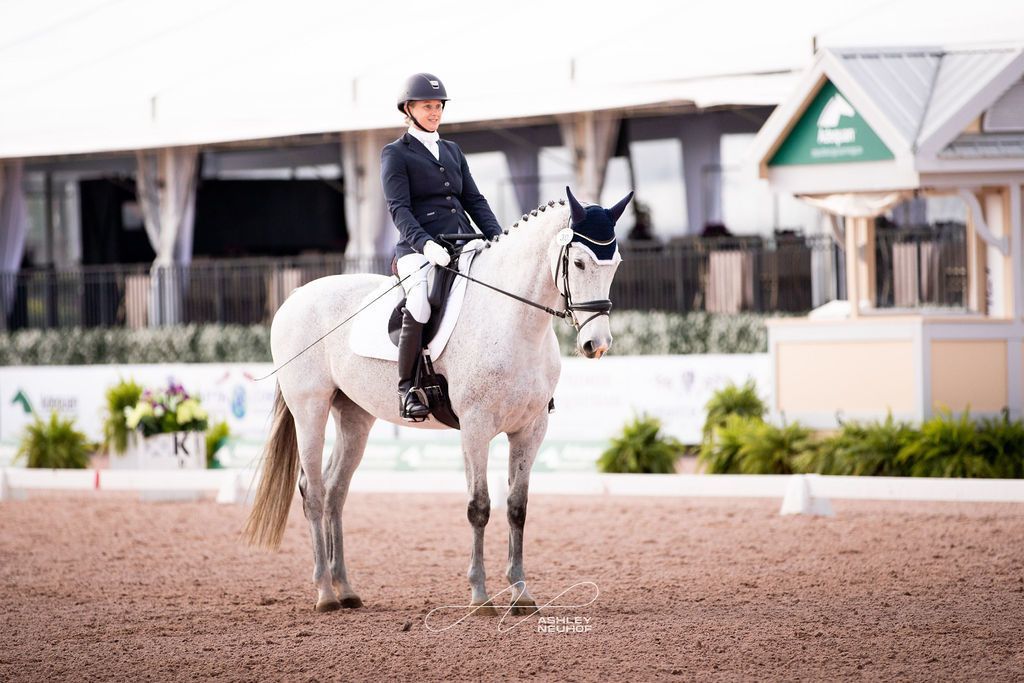 At the end of January, I competed in the CPEDI three-star at the Global Dressage Festival in Wellington, Florida. Thanks to The Dressage Foundation's Para-Dressage Grant that I was awarded, I was able to work with Ruth Hogan-Poulsen to fine-tune our new freestyle, before moving onto the show grounds.
My horse, Gigi, and I are at such an awesome point in our relationship. Gigi has plenty of "fancy," but I needed help being comfortable asking for and then riding her expressive gaits. That is what has been the hardest part, particularly in the freestyle! We spent time working on throughness and then on maintaining that in the movements, all while being able to keep or change the gait if I wanted.
Ruth added a new word to my toolbox: "profiling." Maintaining a consistent rhythm is not easy and the short sides are a definite trouble area. So, whenever we are parallel to the judge, or they see our profile, I show off. I sit up a little taller, smile a little bigger, and ride a little brighter. It doesn't actually look any different but that is the point. It helps after doing a medium across the diagonal, especially because the transitions are so important. To get the medium, letter to letter, I must make sure Gigi's whole body is out of the corner and on the diagonal, allow for the medium, ride all the way to the corner, bring her back one notch, then "profile!"
I am thrilled with the results of our hard work both in and out of the competition arena. Ruth gave me the tools to execute a competitive dressage test. All our work spent on achieving and maintaining proper gaits allowed us to show off what we've got! At a CPEDI, Paras compete in three different tests and we did not score below 71%. We received our best score, of 72.2%, on our freestyle.
I am so thankful to have received The Dressage Foundation's Para-Dressage Grant because it allowed me to have a life-changing experience. Before the ATV accident that left me paralyzed, I was a three-day event rider. I have been back in the saddle for about 12 years now and I have been chasing the "feeling" of exhilaration that eventing gave me. The feeling one gets after galloping through the finish flags after riding a double clear cross-country on a horse that feels like they want to go around again. When you begin to slow the gallop, and you realize that you and your horse just spent a handful of minutes together in your own world. You had been laser-focused on giving your horse a positive ride and had blocked out everything but completing the test. I finally got that feeling as I rode forward, up into the final halt, of our Lady Hawke freestyle. Ruth helped me create a plan and gave Gigi and me the tools to be able to then execute the plan, and this time it was in front of five-star judges!
Photo credit to Ashley Neuhof Photography