2023 Evie Tumlin Grant Recipient Gerlinde Beckers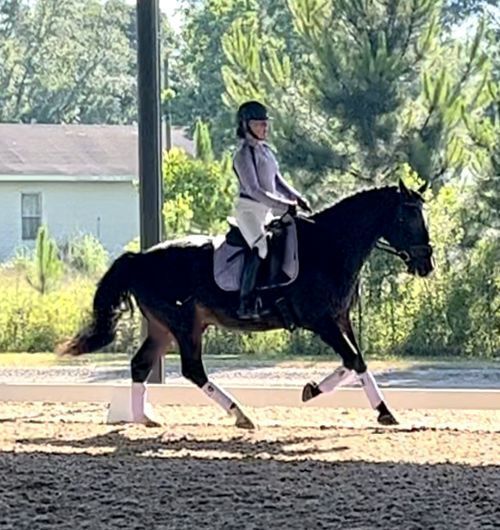 As the recipient of TDF's 2023 Evie Tumlin Grant for Region 9 Adult Amateurs, I was able to participate in a clinic with the legendary equestrian Lendon Gray. The clinic was held at Mills Farm in Opelousas, Louisiana, immediately prior to the Dressage4Kids (D4K) Clinic. I participated in the clinic on my beloved 19-year-old Connemara gelding Roscommon Fagan (Balius Malachi x Lasrachai's Blue Oak Dunlaith). My partnership with Fagan began when he was 14 years old, when he transitioned from a pasture pet to beginning his dressage, eventing, and show career. This competition year we just moved up to 1st Level.
As the groom for my daughter, Kalie Beckers, for many years, as she participated in D4K and Robert Dover Horsemanship Clinics, I had to opportunity to meet Lendon Gray on several occasions and audit numerous clinics, but never as a rider. I knew I needed to come prepared with my short and long-term riding goals, strengths, and areas that needed improvement. I had everything written down, but also memorized. When I told Lendon, she smiled and said, "Let's get started."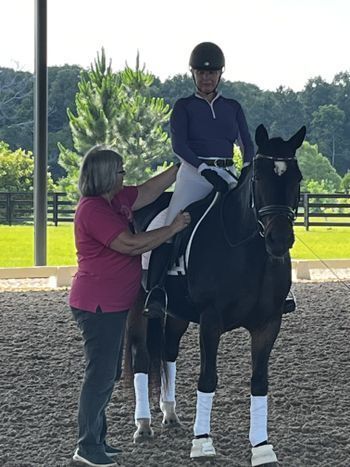 One of my short-term riding goals is to earn the final score of 80% or higher to complete my USDF Elite Dressage Seat Equitation Medal. We worked on my seat position and following the natural movement of Fagan with my connection with the reins. Simple corrections such as these, not only improved how I look but also made me more effective as a rider, especially with giving appropriate and timely half-halts. Fagan's canter work was my primary area of weakness. I actually said, "Fagan, does not canter well at all!" We did a lot of canter work. We worked on bending, using the corners and 15 - 20-meter circles to reestablish both bend and balance at the canter. At the end of the second day, after improvements in the canter, Lendon reminded me what I had said about Fagan's canter, and she said, "He can canter!"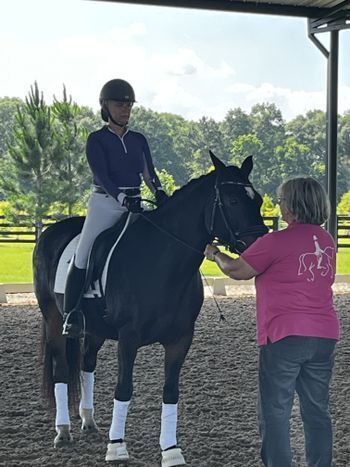 Lendon encouraged me to "trust" Fagan. She pointed out that I was quick to over-support him, especially in canter transitions. Using the corners to establish appropriate levels of bend, helped me to improve my trust, and accept that Fagan can transition correctly into a canter without me holding him together.  
Throughout the two days, Lendon recognized our progress and celebrated our achievements. Her positive reinforcement bolstered my confidence and allowed me to trust my abilities as a rider. My three big takeaways were my seat position, following the natural movements with my connection with the reins, and trusting Fagan!  Riding with Lendon Gray was the opportunity of a lifetime and the knowledge I gained will remain with me as I pursue my riding goals.  I am extremely appreciative of The Dressage Foundation selecting me to receive the 2023 Evie Tumlin Grant for Region 9 Adult Amateurs.