2020 Debbie McDonald Fund for Pacific Northwest (Region 6) FEI Riders Recipient: Stephen Birchall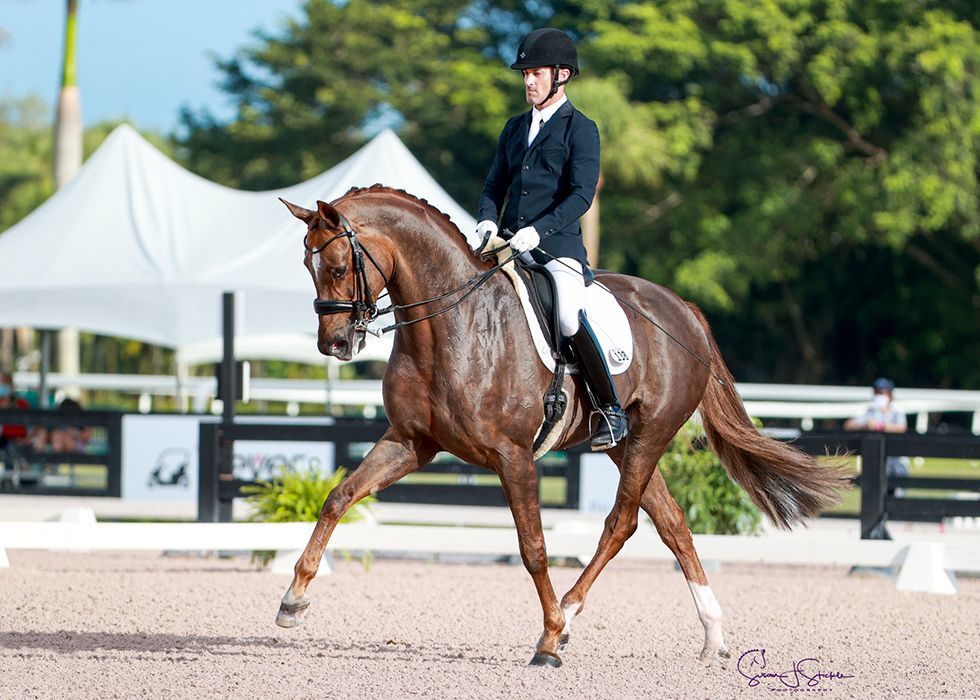 On December 5th, (we) Birchall Equestrian & Co's five horses departed from Portland via FedEx for Wellington, FL, for the 2021 Global Dressage Festival. Two weeks earlier, my father and I drove the truck and horse trailer filled with all the equipment needed for the horses from Oregon to David Marcus and Nicolas Fyffe's training facility where we stabled for the season. All the horses arrived happy and healthy that evening soaking up the warm temperatures of Florida. We were instantly blown away by the friendly and professional staff at MarcusFyffe Dressage who helped us navigate getting everyone and everything settled in!
I spent the weeks leading up to the start of the Global Dressage Festival training and taking lessons with David Marcus. My top competition horse D'Amore, was the focus of my training and, David, a Canadian Olympian, helped ready our game for the first show that we would enter: Global Dressage Festival #5 CDIW.  We entered the small tour and ended up with 66.4 percent in the Prix St. Georges and a 69.0 percent in the Intermediate 1. I was super proud of D'Amore and how she handled herself in the big arena after so much time being out of the show ring.  It had been over a year and a half since we competed due to a previous injury and COVID 19 and she was a total professional. It was her first time competing at Festival and being in the main arena, but you would never have known it!  She didn't spook at a thing.  Overall, it was a great first outing and it gave us the confidence we needed to get the season going.
Our next show would be the Global Dressage Festival #7 where I entered the Dupell's Saumur G in the 4th Level, Test 1. It was this mare's first outing in the United States and she did a fantastic job with scores of +69 percent and winning her class on Sunday. This stunning mare was so focused, and the judges loved her!  In addition, I had the opportunity to school my two other mares owned by the Dupell's, Karisma and Fling. Both horses handled the "big show" atmosphere like pros.  I was a super happy trainer that weekend!
The Palm Beach Derby CDI would be the next show for my mare D'Amore and I.  We entered the small tour once again because we decided that qualifying for the Intermediate 1 Championships in Chicago would be a more realistic goal for this season verse trying for the Grand Prix. We were still too green for the Grand Prix but would continue to train at home while showing the small tour at Global.   We ended up that weekend with a 69.9 percent in the Prix St. Georges and a 67.5 percent in the Intermediate 1 putting us on the podium for second place.  I was super pleased with the progress we had made up to this point, increasing our overall suppleness and thoroughness throughout the tests.  I, unfortunately. had a pilot error which dropped us out of the first-place spot!
In the final stretch of the season, we would enter Global Dressage Festival #10, as well as the CDI at the World Equestrian Center but unfortunately, D'Amore did not feel 100% so we decided it was best to sit them out.  I had my excellent team of vet, farrier, bodyworker, chiropractor, you name it to make sure that we covered all our bases to make sure D'Amore was going to be okay. We concluded that all she needed was some rest so of course, that is what we gave her, and she has recovered beautifully.
Meanwhile, back at the stable, I continued to ride and train the other horses that we brought from Oregon. The Dupell's three fabulous mares I mentioned earlier were purchased right at the beginning of the COVID 19 crisis. We also brought them to Wellington. All of 2020 I had the privilege of riding and developing these amazing horses all of which made their impression not only at the barn but on everyone that tried them. I managed to find perfect homes for all three of them during the final weeks of the season.  I look forward to seeing them out and about competing with their new owners!
I am so grateful for the incredible network of friends, clients, and trainers that I got to spend this memorable five months with. With the help of The Dressage Foundation's Debbie McDonald Grant for PNW FEI Riders, I was afforded the opportunity to gain so many valuable tools that I will take with me in my future training endeavors.  Being exposed to such a high level of competition and professionalism has better prepared me for this summer's upcoming shows and hopefully the national championships in Lamplight, Chicago.